The Land Transportation Franchising and Regulatory Board has posted a memorandum on its website regarding implementing guidelines for the opening of a premium taxi service (PTS), just days after the agency had announced its ultimatum for unregistered Transportation Network Companies (TNC) such as Uber and GrabCar beginning August 21.
The LTFRB premium taxi service is similar to TNCs in how both services utilize GPS navigation and vehicle-tracking devices, as well as credit or debit card payments, to provide passengers with a safer and more convenient transportation experience. PTS cabs must also be booked via online or smartphone-based applications.
According to the memorandum, a total of 5,580 PTS units will be authorized. Proponents must have a fleet of at least 20 units, and must present the following characteristics (driver- and vehicle-wise) and requirements for review by a pre-qualification committee:
* Four- or five-door automobile, sedan type, with engine displacement of 2,000cc or higher;
* Four-passenger seating capacity (excluding driver);
* No fixed route within a specific area;
* Air-conditioned vehicle;
* The top light must display "premium taxi";
* Drivers must be in uniform and have company IDs;
* All vehicles must have clear windows;
* Vehicles must be in color set by LTFRB;
* All vehicles must be brand-new at the time of franchise operation, and must have a maximum age of only seven years;
* All vehicles must be equipped with a GPS vehicle tracking and navigation device;
* All vehicles must be equipped with an on-board electric taxi fare payment device capable of processing payments made with credit card or debit card;
ADVERTISEMENT - CONTINUE READING BELOW ↓
* The operator must have a facility for booking and dispatching by way of an online or smartphone-based application;
* The operator must have its own workshop and depot with space of at least 15sqm per vehicle and a total area of at least 750sqm. This should be separate from any existing workshop and depot already occupied by or assigned to other taxis in the operator's fleet; and
* The operator must comply with rules and regulations issued by government agencies.
It seems that the memorandum caught a lot of people off guard, generating a lot of negative buzz and public backlash on social media. But the PTS classification was created by the Department of Transportation and Communications (DOTC) via Department Order No. 2015-011 back in May, together with the TNC classification. Basically, the PTS concept isn't new--the LTFRB is simply following through with what it announced months ago. We included a screenshot of the part regarding premium taxis below.
While the PTS rates have yet to be released, you can expect these to be significantly pricier than those charged by their regular counterparts. Will normal cabs and TNCs ever be able to coexist? What does the arrival of PTS taxis mean for the future of TNC vehicles?
Let's just hope all of this is for the general good of the commuting public.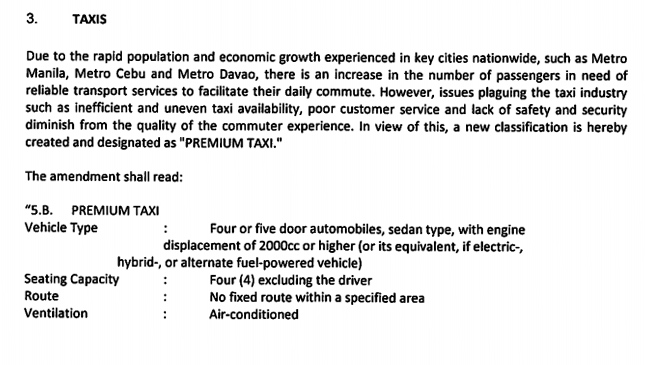 ADVERTISEMENT - CONTINUE READING BELOW ↓
Recommended Videos