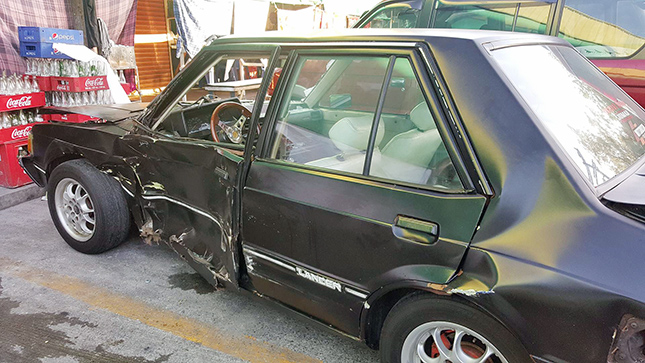 Earlier, we wrote about a car-thrashing incident in BF Homes, Parañaque, reported by a man named Kevin Pasimio Locsin, whose family owns the four vehicles that were supposedly involved in the incident. According to Locsin, a young guy named Daryl Matti--reportedly the boyfriend of his sister--either thrashed or drove away their family's cars. These cars, added Locsin, were a Ford Ranger, a Mercedes-Benz SLK, a Nissan R32 Skyline, and a Toyota Vios.
Locsin said that the Ranger and the SLK were taken by Matti and his accomplices, and then crashed said cars. Locsin's Skyline, meanwhile, was vandalized while parked, and the Vios was still missing.
Here's the twist: We just got new information from the owner of the box-type Mitsubishi Lancer the Ranger crashed into. Fons Chester Garino told TopGear.com.ph that he was outside the Central bar on Aguirre Avenue--where he works as a DJ--when the speeding Ranger hit his parked Lancer at around 3:30am. The impact was so strong that Garino's Lancer hit an Isuzu MU-X parked next to it, which in turn hit a Toyota Fortuner. Worse, a tricycle was also clipped, injuring its driver.
When Garino and other bystanders rushed to the scene, the Ranger driver reportedly even attempted to leave by backing up. So one of them opened the door and forcibly took the keys. That was when they saw a lone lady driver inside the pickup. It was at the police station several hours later that Garino learned the name of the driver: Patricia Locsin.
"She's the sister of the guy who posted the photos," Garino said. "I don't know the story about the Skyline, the SLK or the Vios. But I know the real story about the Ranger."
Garino revealed that Locsin's father arrived at the police station to negotiate with him and the owners of the other vehicles. Both the MU-X and the Fortuner, he said, also sustained serious damages. Garino shared that he had acquired the box-type Lancer for P70,000 and had it restored for P30,000.
This certainly adds a different angle to the story. We will update you as we get more information on the incident.
Photos from Fons Chester Garino