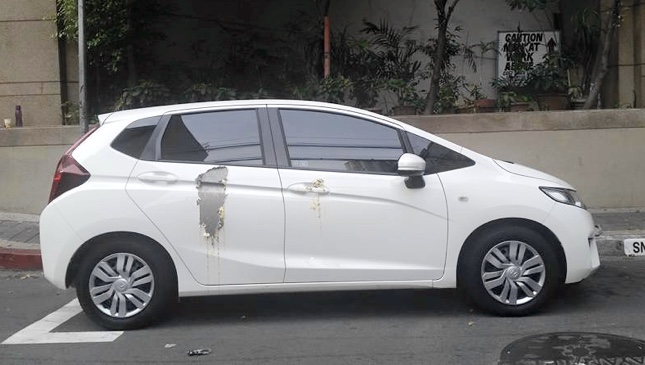 Car vandalism is pretty common in the Philippines, mainly perpetrated by losers who have nothing better to do in life. More often than not, these misdemeanors are as petty as scratching or keying a helpless, unattended vehicle. But what if the senseless act involves something more dangerous than merely chipping a car's paint job? Worse, what if it involves something potentially life-threatening?
A guy named Tim Santos narrated to TopGear.com.ph how his car (a Honda Jazz) was recently a victim of a menacing kind of car vandalism. His story is as follows:
I'm the victim of an acid/Stripsol/brake fluid attack last Saturday (June 6) inside Ayala Alabang Village. We were about to go home at around 8pm when my girlfriend saw what had happened to the door of my car, which she immediately reported to the security personnel. Unfortunately, there were no witnesses even though the event was packed. The guards told us there were no CCTV cameras around the area. We had gone there early since we were one of the food concessionaires for the event, and I found a slot near the main entrance of the venue and properly parked my car there.
My concern right now is the safety of my family and everyone around me. It was intentional, and I'm sure they wanted to harm us because the fluid/acid was poured exactly onto the handle of the front-passenger door. The venue was poorly lit. There is a possibility of a personal attack, but since there is no evidence yet, we can't make any accusations. Such senseless crimes should not be tolerated, and I hope that the person behind this stupid act will get his time in jail.
Was it deliberate? Was it random? We may never know for now, but what we do know is how easy it is for malevolent individuals to inflict damage on other people's property. Time to be extra vigilant. We the responsible car owners need to look out for each other. Should you find yourself being a witness to any form of car vandalism, you owe it to society to report it to authorities.
Photos from Tim Santos