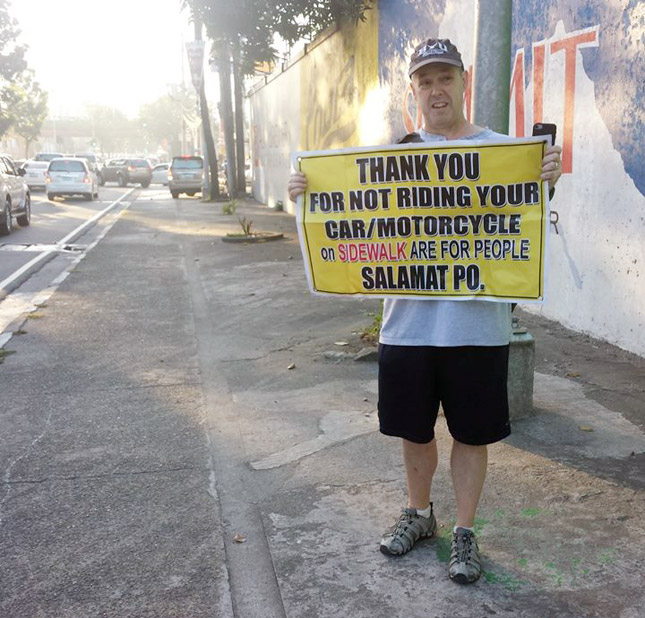 The photo you see above must look fairly familiar. This picture has already made the rounds on social media. In fact, we've had several people send us this image--from different angles and on different days, we suppose--but we've never bothered to share it because, as we said, it has already gone mildly viral.
But now, someone has sent us a similar photo featuring the same guy and the same placard, and this time with a story.
Jessy Go writes:
I'm sending you a photo of an Englishman who faithfully stands along Ortigas Avenue every school day, for 30 minutes. I've seen him block motorcycles that pass through the sidewalk. He'll block them until the drivers give up and finally ride on the thoroughfare. I asked him why he stood there every day, and the polite Englishman simply told me that he just found it rude that motorcycles blatantly drove along sidewalks to cut through traffic.
I think he has a noble cause, and I commend him for his political will. He later on shared with me that he hoped more people would do something about arrogant drivers.
He lives in Antipolo, heads to Ortigas (between Santolan and Madison, where there's always a heavy buildup of cars because of ICA and Xavier) every morning at 7am to 7:30am, and he proceeds to work after. I apologize for the lengthy anecdote, but his cause deserves this commendation.
Well, that anecdote isn't lengthy at all. In fact, we want to know more about this cool dude. Like what's his name? How long has he been living in the Philippines? What's his actual job? What prompted him to do this? Why is he dripping with awesomeness?
If you know the guy, tell him Top Gear Philippines thinks he rocks.
Photo from Jessy Go