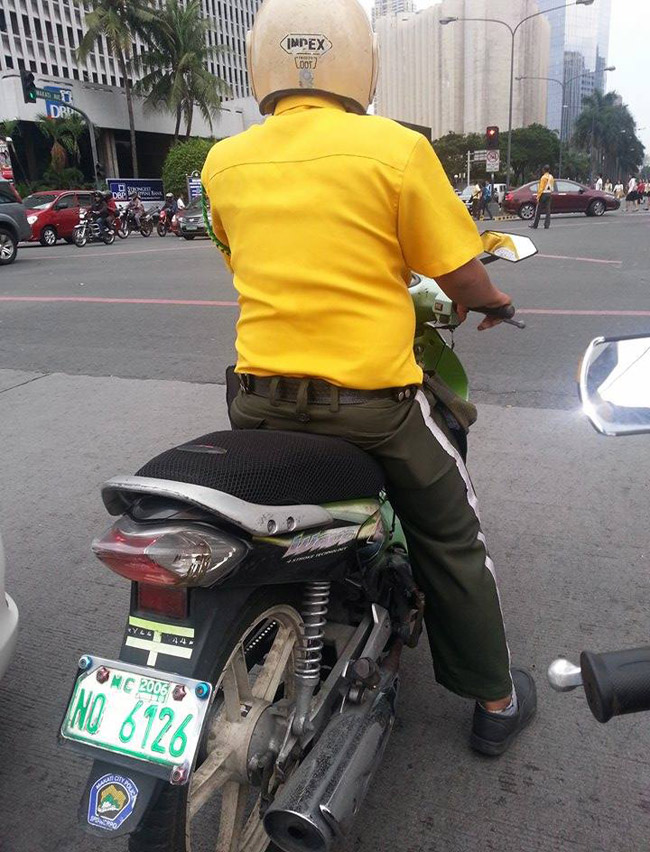 Yesterday, a reader named Adrian Domingo sent us the above photo with the message: "I just noticed that aside from the fact that many of our traffic officers are seen riding motorcycles without a helmet, most of them also use motorbikes with expired registration, like this one." For good measure, he added the hashtag #ganitosilasaMakati.
The photo clearly shows an officer of the Makati Public Safety Assistance, or MAPSA. The group is generally in charge of traffic management in Makati. The motorcycle's plate visibly sports a 2006 registration sticker from the LTO. Below the plate is a sticker that says "Makati City Police."
We then sent the motorcycle's plate number (NO-6126) to the LTO database (2600) and posted the result on our Facebook page together with the photo. The result we got was: 2005 Honda XRM110 J, last registered on August 11, 2010. As expected, the post was deluged with angry and disgusted comments, our Facebook followers even noting that the motorcycle in the picture is not an XRM but a Wave. Many began concluding that the motorcycle must have been a stolen unit, slapped with a different plate so as to keep it under the radar.
This was last night.
As we stared at the photo more intently, however, it dawned on us that we had gotten the plate number wrong. A closer look will tell you that the plate number is, in fact, NQ-6126. So we took down the post and sent the accurate plate number to the LTO database as well. Unfortunately, the database went offline and we just kept getting error messages the rest of the night. We were crossing our fingers and hoping that we would get a positive result--one informing us that the motorcycle was indeed registered up to this year, as it should be. We wanted to be able to issue an apology to MAPSA and to announce to our Facebook followers that the group was actually a band of law-abiding individuals.
Alas, we went to bed still unable to get info from the LTO database.
And then we tried again this morning. This is the result we got for NQ-6126: 2005 Honda ANF125 MX, last registered on September 26, 2007. Wow. The result turned out to be so much worse.
Now, as for the motorcycle model, we can't determine for sure if the ANF125 is the same as the Wave. (Sorry, we're not very familiar with motorcycles.) So we're suspending judgment on whether this motorbike might be a stolen one.
ADVERTISEMENT - CONTINUE READING BELOW
In summary, we can conclude this: The very people ruthlessly issuing traffic violation tickets to regular motorists are some of the worst law offenders themselves.
Ah, but we all already knew that, didn't we?