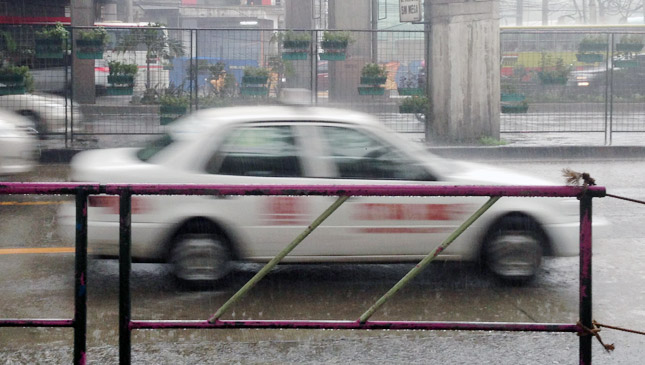 Full disclosure: We don't know for certain if this story is true, but we'll share it anyway. We got this from Fashion Pulis, our fellow awardee at the 2014 Digital Filipino Web Awards. We know the website is widely followed and generally respected, but we still have to advise anyone who reads this to take it with a grain of salt. Here is what the entertainment website posted today:
Beware: A girl I know was abducted by a taxi driver (Fort going to Salcedo). She was raped for three days. That night, a 45-year-old female architect hailed a cab from The Fort going to Makati. When she noticed a diversion, she called the driver's attention. Out of nowhere, a man appeared (maybe hiding in the front seat) and covered her with a blanket. She was brought to a safe house somewhere in Taguig. For three days, the 19-year-old guy who was guarding her asked her for sex. She had no choice but to give in to his desires. The older men would then escort her to the ATM every day to withdraw P20,000. When the 19-year-old guy found out that the older men were planning to kill the girl, he helped her escape. According to her, there were at least four other victims (three women and one man); some of them were killed and buried in the area. Please tag someone who always takes the taxi. Beware! Don't stop @uber_manila's operation.
Now, that is some scary story--assuming it is true. We're just wondering about a couple of things: how the victim knows the exact age of the guy who raped her, and how this same rapist suddenly grew some conscience and helped her escape. If it's true this 19-year-old guy is totally averse to the idea of killing his group's victims, don't you think he would have bolted knowing other victims had already been killed?
Also, how come the culprits forced the victim to "withdraw P20,000 every day"? Why would they risk going to the ATM every day instead of getting the maximum amount that could be withdrawn (which, we're sure, should be much more than P20,000), or simply asking for the PIN and withdrawing the money themselves?
And then there is that endorsement of Uber Manila. It seems to us someone is out to make regular taxicabs look awfully bad and Uber supremely good.
Who knows? Then again, in the urban jungle out there, one can never be too careful.
ADVERTISEMENT - CONTINUE READING BELOW
NOTE: If you look at Fashion Pulis's Instagram post now--as well as the story entry on its main website--the last part about Uber is gone. (You can edit captions on Instagram, just to be clear. And the story entry on the main website merely uses a screenshot of the Instagram post.) Also, an addendum has been affixed to the story ("Note: This is not a sponsored post").
Photo by Vernon B. Sarne; for illustrative purposes only