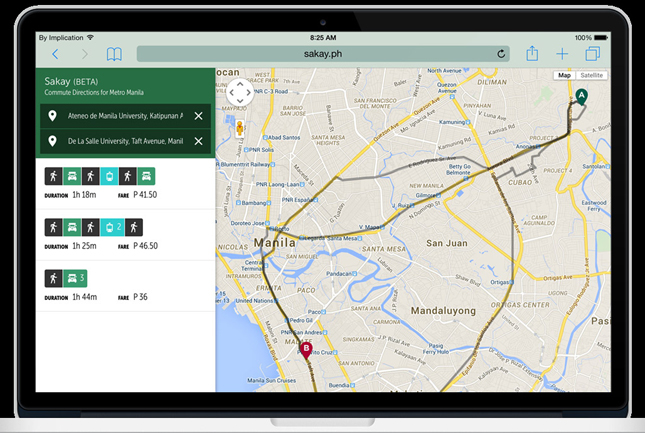 As much as we love driving our cars, there are inevitably days when we have to commute. These instances may be when our car is in the shop, when another family member uses the car, or when our car's license plate is banned.
The remaining solution is good old commuting, just like how we did it as students. However, Metro Manila is a motoring zoo--full of wild buses and jeepneys, with a smattering of train lines with doubtful maintenance. How does one make sense of all this mayhem? Well, there's no app for that...yet. But there's a website that offers to help those without a messenger's grasp of public transportation.
The website, as well as the domain, is called Sakay.ph, and it was built by developers Philip Cheang and Thomas Dy as an entry to the Philippine Transit App Challenge. Sakay.ph is a web app, which means you use it just by going to the website. No need to install it on your computer or smartphone. It's completely free, and is accessible on any platform or device with an Internet connection.
Once you load the website, you will see two empty fields: an origin and a destination. Once you select the origin box, it will prompt you if you want to enter your current location. After you input your origin and destination, you will be presented with choices of commuting routes using buses, jeepneys, trains and walking. It even shows the cost of each route.
Continue reading below ↓
Recommended Videos
If you've used Google Maps and its navigation function, Sakay.ph's interface will be familiar to you.
Sakay.ph has recently been updated, its biggest visual change since its launch. The look is fresh, and there's improved routing data. Step-by-step navigation instructions are also offered for those who need really specific instructions. The developers also said iOS and Android apps should be released by the second week of February.
We look forward to the day when we can let our cars rest in the garage while we make use of efficient and safe public transport, but until then, this program should make navigating the city via commute easier.