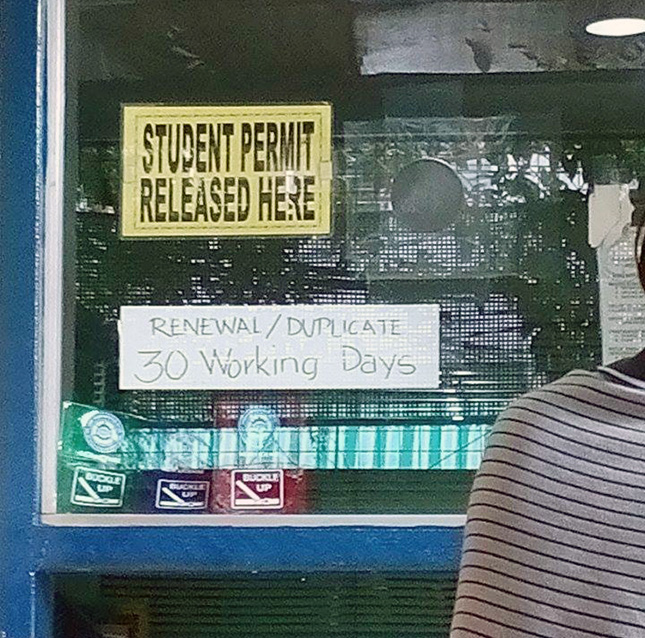 Unless you got marooned on a faraway island, you should be acutely aware of how messy things have become at the Land Transportation Office this year. Not only is there a perplexing shortage of license plates, but the material used to manufacture said plates is horrifyingly bad. What's more, motorists can't get their hands on their licenses--even after paying the required fees to acquire or renew one. What's happening to this chaotic agency?
Well, a lady named Kat Carpio sent us a well-written rant, and we'd like to share it with you--if only because her rant perfectly verbalizes everything we've wanted to tell LTO. Enjoy reading (her rant is in italics):
My friend encouraged me to share my misadventures with you. I'm hoping your voice would be far better heard than mine, and that something can be done for other people who might have the same misfortune as I did.
I just had my non-professional driver's license renewed. Again, I'll repeat...this was a renewal. It took me eight hours to get a receipt that they said would serve as a "temporary license." The following is a summarized account of how messed-up and disorganized our Land Transportation Offices is:
1. I checked their website and was informed that Tutuban Mall (I work in Divisoria so this was very convenient for me) has an LTO outlet, so I walked 30 minutes to get there (due to holiday-shopping foot traffic). Lo and behold, it has been closed since September (it is now the end of December). Apparently, nobody bothers to update their website. Also, it turns out the LTO branches in the malls are all a waste of space because they're all just for show as the next item is sure to show.
2. So I took a jeepney to SM City Manila because there was also an LTO there according to the LTO website, but again, they no longer provide license-renewal services. And since there was no one there, an employee suggested that I just get my medical exam done there so my renewal process would be faster when I went to another LTO branch.
3. My medical at SM City Manila cost P200; the "doctor" just asked me to read one (yes, ONE) line from the eye chart, and deemed me worthy of getting a medical approved form. That form had the following checklist: that I was physically and mentally healthy; that I had good eyesight, and that I had good hearing. One, how can you know that the people you're approving are physically and mentally healthy when the only thing that you do is an "eye test" that takes less than two minutes? No physical, mental or even auditory tests are performed. Is this how we ensure the people who get licenses are fit to operate a motor vehicle? Great job, LTO.
ADVERTISEMENT - CONTINUE READING BELOW
4. After my less-than-two-minute "medical exam," I was given the suggestion to head over to the Manila South District office all the way in Malate apparently because there were fewer people there, so I went. I took an P80 taxi ride to get there faster, and when I got there, I was once again informed that there was NO LICENSE RENEWAL provided at that LTO outlet. I was then told to head over to LTO Tayuman. Awesome. Our Land Transportation Office has branches that do not have the means to allow you to transport yourself!
5. When I got to the Tayuman branch, I waited another three hours for my name to be called just to PAY! Not even to get my "temporary license receipt"--nope, just to pay. And then I waited another hour to be called to Window 15 to get my receipt license.
6. As I was waiting (and wasting my life in the hot, smelly and dirty waiting area, which was supposed to be smoke-free but half the bystanders there were smoking), I asked over at Window 10 if my brother's non-pro license was already available since he had also been issued a temporary "receipt license" back in August. The woman told me that it wasn't ready yet, and to just come back in February 2016.
When my brother was given his "receipt license," he was told to come back after 30 days to get his license card, and now you're telling me it'll take half a year to get it because you've run out of printing cards? DOES THIS OFFICE NOT HAVE ANY FUNDING? What happens to the money thousands of people applying and renewing licences pay every day? Why does it take six months to print out a license? So what? I should come back to claim mine in JUNE 2016?
Also, I don't quite trust their timelines because according to several people waiting in queue asking for their promised licenses, they had gone back four to eight times already since they were first told of their claim date--and their licenses were still unavailable.
7. I am very much expecting them to say that they're understaffed, or everyone's doing his/her best, but those would be lies. While I was waiting in line to pay at the cashier, most of the employees were just watching a movie or staring blankly at their computer screens, or just laughing, talking on their phones, or gossiping with each other.
ADVERTISEMENT - CONTINUE READING BELOW
SHAME, SHAME, SHAME. Whoever runs the LTO is doing a very, very, very poor job of making sure it actually works. I work a 10-hour job, and I just lost eight hours when I should have been able to finish a simple license renewal during my lunch break. So to our LTO, great job at being officially lousy. And thank you for wasting my day.

So yeah, sorry for the long rant, but it was a really long, bad, stinky day.
Photo from Kat Carpio