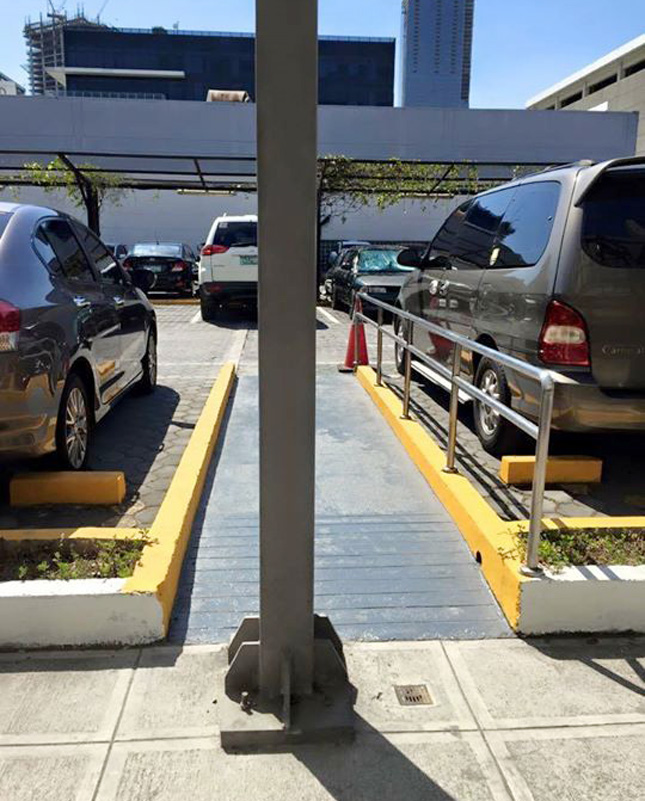 Remember the photo above? We posted this picture on our Facebook page last week, on June 23. Obviously, it shows a PWD ramp leading to a parking lot, but a pillar is blocking its path. Some people were able to quickly identify it as being located at Bonifacio High Street inside Bonifacio Global City.
As you can imagine, the ensuing comments were not very kind:
Epic fail.
WTF.
Facepalm.
You had one job.
Adding insult to injury.
Clap clap clap.
Seriously?
Paasa.
You shall not pass.
Stupidity at its finest.
Not to mention our very own caption: It's the thought that counts.
One person by the name of Daryl Garcia, however, was irked, commenting: "What's the point of sharing this photo? I know it's odd, but did Top Gear make a letter addressed to the concerned authorities to have this removed? Or wala lang, para lang pagkwentuhan ng mga brainless, jobless, non-taxpaying followers ng Top Gear?"
Well, to answer Mr. Garcia: No, we did not write or report this to BGC management--we just posted this on our humble Facebook page. And you can check the result through the photo below (taken by the photo-sender yesterday afternoon, June 29).
You're welcome.
Top photo from Clai Plurad; bottom photo from Renz Marion Viray