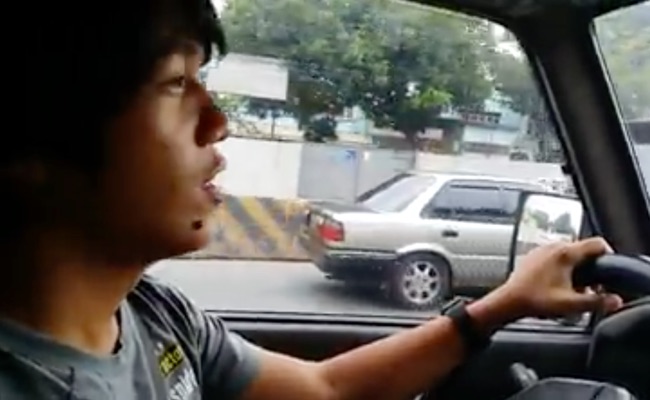 Another locally made driving video went viral over the weekend. If you haven't seen it--which is highly unlikely if you also follow our Facebook page--you may view it here. Said video shows a young man--who has been identified as Tito Cosejo Jr.--driving his old MPV aggressively and bragging about his skills at the wheel. A passenger friend was taking the video. It is unclear how many passengers he had with him at the time, but they seemed to be having the time of their lives.
The purpose of the video? To supposedly teach others how to turn the "beast mode" on while driving. Or how not to let other motorists get ahead of you on the road--even at the expense of road safety. The video shows him dangerously racing and chasing other cars. In fact, he hit the side mirror of another vehicle, the driver of which went down to confront him. Staying true to the theme of the video, Cosejo went on to ridicule the driver by provoking him further and refusing to apologize. His friend (or friends) can be heard egging him on and laughing in the background--which makes them accomplices, plain and simple.
To immortalize their motoring shenanigans, Cosejo (or his friends) uploaded the video online. Of course, we just had to share it on our Facebook page and grant the guy's wish to be famous. As you can imagine, an unprecedented social-media outrage (on our page, at least) ensued, the video having now fetched more than 9,000 shares and more than 7,000 comments as we write this. We think the collective display of indignation is so much more intense than that heaped upon Robert Blair Carabuena.
Well, Cosejo has now personally sent us an appeal, and we're printing it here unedited and in full. His message is in italics:
Ako po yung nasa video na naka-post sa fan page niyo. Madami po threats sa mag-ina ko at ayoko lang madamay pa sila nang lubusan. Ano po ba ang maipapayo niyong pinakamagandang gawin ko? Hindi ko masisisi ang reaction ng tao. Ang ikinalulungkot ko lang pati misis ko, pati yung 19-month-old kong anak, ay pinapatulan ng iba. Masakit po iyon para sa akin. Sana po maintindihan niyo ang kalagayan ko ngayon at ng pamilya ko. Salamat, kapatid. Sana po matulungan niyo ako.
For the benefit of those who do not speak Filipino, here is the English translation:
ADVERTISEMENT - CONTINUE READING BELOW
I am the person in the video posted on your page. There are now many threats received by my wife and child, and I don't want them to be involved in this. What do you suggest I should do? I can't blame people's reactions. I'm just saddened by the fact that my wife and even my 19-month-old child are being harassed. That is what pains me. I hope you will understand my situation now and that of my family. Thank you, brother. I hope you can help me.
He also attached his public apology, which we understand had already been posted on other social-media pages. In that apology, he says that he made the video "a few years ago" and that it was a "harmless trip that went wrong." He adds that he has learned his lesson "the hard way."
And then just now, his wife Diana Laserna Cosejo also posted an appeal on her own page, and we're sharing it here in full (in italics):
Dearest friends, thank you so much for your concern and support. I am not proud of what my husband did and will not defend something indefensible, but I am proud of him for taking responsibility for his actions and admitting his mistake. What's done can no longer be undone, but he is truly sorry and has learned his lesson. We can all expect him not to do that ever again. Actually, he has changed a lot in the past two years, and I don't expect everyone to believe me when I say he is not the same man he was in that video. Everybody's entitled to an opinion, but please do bear in mind that whatever you say, though not held against you, says more about you than it does about the video or my husband. Again, on his behalf, I apologize. I think it is completely unnecessary to post pictures of our baby. To friends who have expressed their sympathy, empathy, concern, love and support, asking what they can do to help, you can share this. It may not go viral like the video, as we tend to focus more on the bad than the good, but you have my sincerest gratitude for your friendship and solidarity.
Now, here's our take on the couple's apology and appeal.
First off, it's hard to accept an apology that is based on a lie. That video certainly wasn't shot "a few years ago." As several people have already pointed out on our Facebook page, that video was shot fairly recently, as at least one building seen in the video was completed only in late 2014. Someone also pointed out that the Christmas tree seen in the video was the same Christmas tree put up just last December. Plus, new-design license plates are visible in the clip, which couldn't have possibly been issued "a few years ago."
ADVERTISEMENT - CONTINUE READING BELOW
We're not trying to bury Cosejo in a deeper hole--if that's even possible--we just expect some honesty and transparency to go with an apology. An apology, by the way, that is owed to the whole motoring public, not us.
Second, even if that apology were truthful, it shouldn't muddle the issue, which is that Cosejo needs to be meted a penalty of some sort. We need to put a stop to our perilous culture of "break the law now, apologize later." If this blows over like nothing happened, you can start feeling sorry (and afraid) for your kids. This country needs to know the meaning of consequences.
A colleague even talked about "second chances." Enough with that mentality. That's why the Philippines is going nowhere. We're too soft. We're too emotional. We're too soap-operatic.
Third, having said all of this, we totally agree that people should stop bashing Cosejo's loved ones. Leave them out of this. It shouldn't matter whether he is the son of a government official, or his wife is connected to a school. They have absolutely nothing to do with this. Let Cosejo face the consequences of his actions like a man. We're all livid because he bullied people on the road; let's not repeat the same stupidity by now bullying his family online.
Fourth and finally, the authorities need to act on this. Shame on you if you let this pass just like another inconsequential viral story. This isn't trivial. This isn't harmless. Your inaction is the very reason there are countless moronic drivers out there who mock our traffic laws every day and put other people's lives in danger. Do us all a favor by doing your job.