Having a hard time booking a ride lately? We know how it feels. Taking into account the Christmas season rush, countless year-ender parties, and the limited number of drivers available, we're not exactly surprised either.
Thankfully, this might be about to change.
The Land Transportation Franchising and Regulatory Board (LTFRB) has announced that it will soon be accepting new applicants for transport network vehicle services (TNVS). Just how many are we talking about? A total of 20,000 units.
And just to make things clear, these are new slots being made available. These aren't pending ones or part of master lists previously submitted to the LTFRB.
Online applications are set to begin on December 17, 2018 (that's this coming Monday), and appointments and acceptance of applications will start on January 3, 2019.
Apparently, there's also an advisory posted outside the LTFRB's office along East Avenue, Quezon City. A photo of which was sent to us earlier today: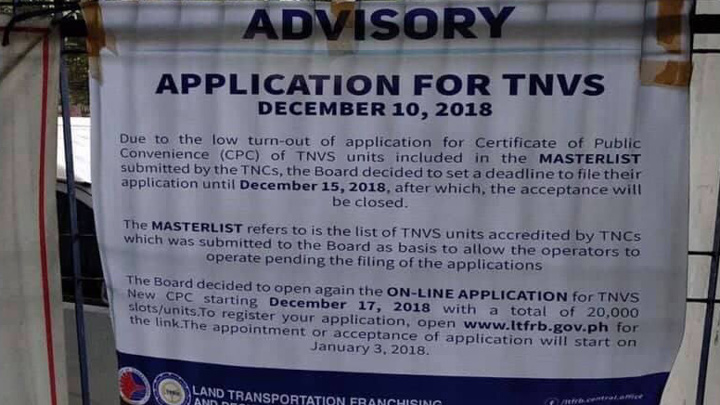 Continue reading below ↓
Recommended Videos
"The Board decided to open again the online application for TNVS new CPC starting December 17, 2018 with a total of 20,000 slots/units," the notice, printed on a tarpaulin, reads. "To register, open www.ltfrb.gov.ph for the link. The appointment or acceptance of applications will start on January 3, 2018."
It'll probably take some time for these new applications to be processed, but this is definitely a step in the right direction. How big of a difference will 20,000 additional drivers make? We'll find out soon enough.