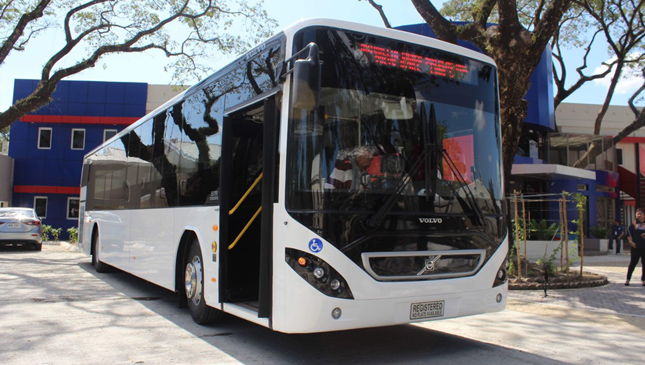 Who's a fan of reckless, smoke-spewing public buses? No show of hands? Then you guys will be glad to know that the Department of Transportation (DOTr) is planning to deploy modern e-bus units to help ferry commuters across Metro Manila.
The images you see before you are a Volvo e-bus prototype, which might soon be plying a thoroughfare near you as a P2P transport. It comes equipped with large side doors (which appear to be PWD-friendly) and CCTV cameras. The DOTr says it can accommodate up to 120 passengers, but that could be a stretch unless the agency plans on deploying articulated bus units.
Continue reading below ↓
Recommended Videos
Based on appearances (headlights, wheels, and interior), the photo below could be the two-door version of Volvo's 7900 Electric Hybrid bus--a vehicle that's already a common sight around parts of Europe. If we're right, this vehicle runs on both a four-cylinder diesel engine capable of 240hp and a 150kw electric motor with 1,200Nm of torque. But again, this is just a hunch so do correct us if we're mistaken.
According to the DOTr, the P2P e-bus service is open to all brands and not just Volvo, provided the vehicles are compliant with Memorandum Circular 2017-034. The agency added that transactions will be cashless and will be made via an automatic fare collection system, and that the new P2P buses should help alleviate the woes of MRT-3 commuters.
Seeing these photos, only three words come to mind: Make it happen. Are you on board with this as well?