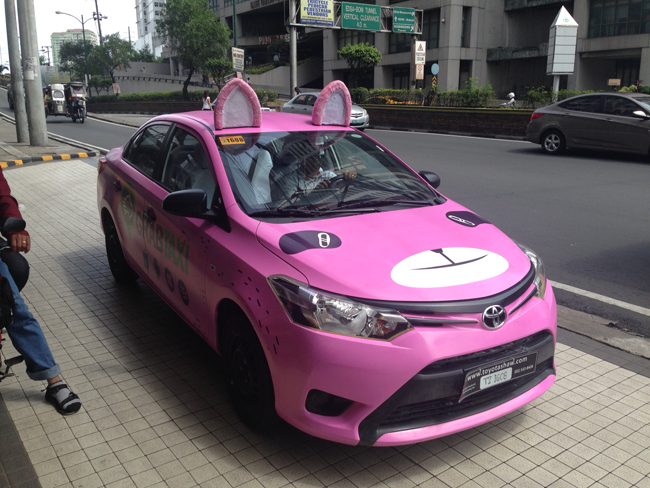 Contrary to what some people think, members of the Top Gear staff don't drive a different new car every week. We don't have a basement parking garage full of the latest in automotive metal. There are maybe three or four cars downstairs at most when we're doing a big shoot. We take the privilege of test drives seriously, and we only borrow when we have a specific purpose. We don't borrow for shallow reasons--like, say, our personal car is in the shop.
It was for this exact reason (our car being repaired) that we had to take a cab to work yesterday morning. Being the tech-savvy citizens we think we are, we booked a ride using the nifty app called GrabTaxi. This app can be installed on smartphones that run on Apple iOS, Windows Phone, BlackBerry OS or Android.
Like what we usually do on a car-less day, we loaded the app, put in our current location and desired destination, and waited for GrabTaxi to book a ride for us. Then something odd happened. A taxicab with plate number ABC-123 confirmed, and the driver's name was "Sexy Fox."
Um, okay.
The biggest surprise was when the cab we booked finally arrived.
We shared the sentiment of the other motorists who saw what picked us up: "What the heck is that?"
We got in, a little reluctantly, and noticed that there was no taximeter. Before we began to panic, the driver explained that this unique taxicab was a collaboration between the 24/7 taxi company and GrabTaxi. Thus, the logos on the side. And best of all, the ride was free! That's why there was no need for meters.
ADVERTISEMENT - CONTINUE READING BELOW ↓
During the ride, we got to learn more about this unique promotion from our driver, Herminigildo Quillao. He said there are 20 cabs of 24/7 deployed for this promo. All are new Toyota Vios units, and all are decorated in a similar "cat" motif, complete with ears and a tail. Other than pink, there are also taxis with maroon and black-and-white colors.
According to Quillao, the promo will run for two months starting July 7. The special GrabTaxi cabs operate from 6am to 8pm daily except when they are number-coded. If you know how GrabTaxi works, you know that cabs are chosen randomly. You can't select which taxi will pick you up.
So book a ride now. If you're lucky, a pink Vios will take you to your destination. Based on what we've learned from this experience, women love pink cars.
Photos by Dinzo Tabamo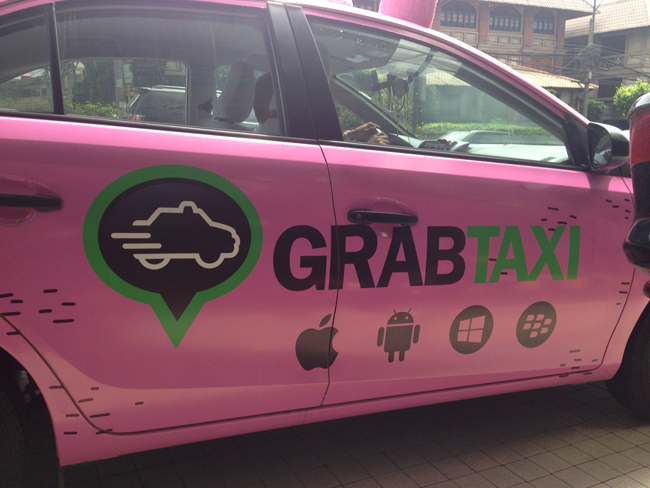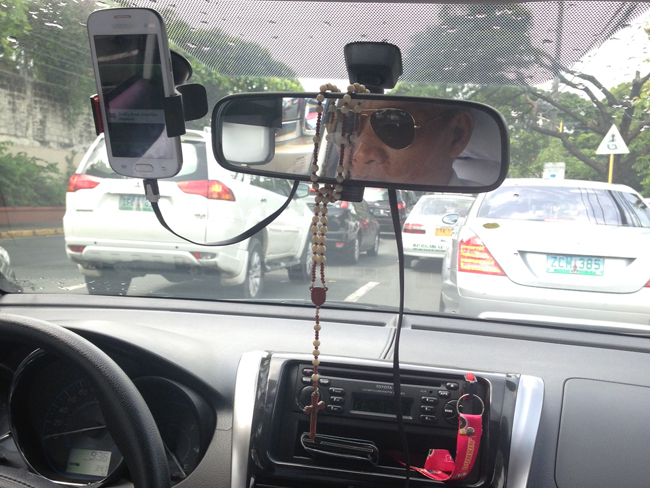 ADVERTISEMENT - CONTINUE READING BELOW ↓
Recommended Videos