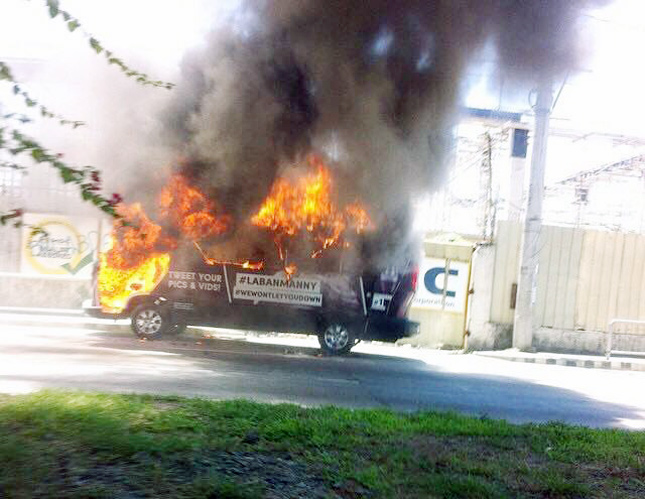 Yesterday, May 13, just before noon, a COMET electric jeepney burned down on Katipunan Avenue in Quezon City, near UP Town Center. The fire consumed the entire vehicle and worsened the already heavy traffic in the area. Fortunately, no one got hurt.
Now, we initially received reports from individuals who claimed to have heard from bystanders that the e-jeepney fire was the result of arson, or the deliberate setting of fire to property. The story alleged that drivers of regular diesel-powered jeepneys were hostile toward the electric vehicles because the latter were supposedly eating into their business.
But we called GET (Global Electric Transport) Philippines, the company that owns the COMET e-jeepney fleet now plying Quezon City streets, and we were told otherwise. According to a company officer who requested not to be named in this report, no arson was committed. The e-jeepney caught fire on its own. The driver and the payment system operator tried to put out the fire with the vehicle's fire extinguisher, our source said, but the flames continued to engulf the e-jeepney.
"Our engineers are now looking into the incident," our source told us. "In the meantime, COMET operations have been halted while undergoing a scheduled systems upgrade in time for the opening of the next school year."
The 16-passenger COMET e-jeepney is manufactured by US-based Pangea Motors. It is powered by a 30kW, 150Nm motor that makes use of lithium-iron phosphate batteries. This electric vehicle is said to have the ability to travel up to 100km on a four-hour electric charge. It has a top speed of 60kph.
Photos from Gabriel Roy Callanta, John Ace Tabangcura and GET Philippines