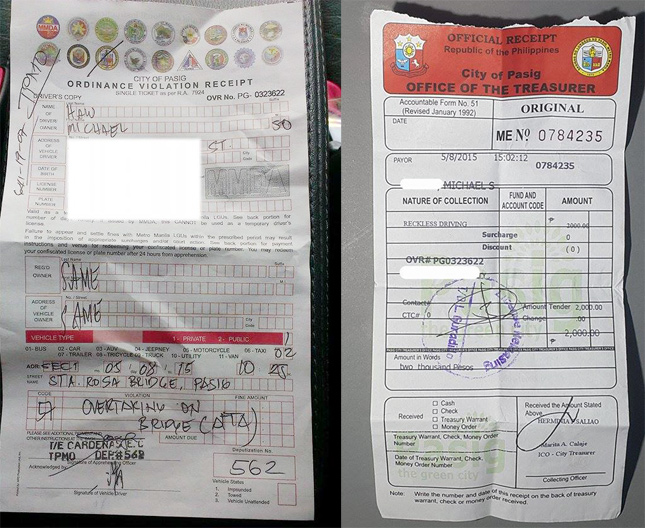 All of us have committed a traffic violation one way or another, and all of us have surely been issued a traffic violation receipt--unless you're the type who bribes traffic officers (shame on you if that's the case). And we bet that most of us do not really bother to inspect the TVR issued by the apprehending traffic officer, a lesson learned too late by one letter sender.
This is his story, as narrated by him:
I was robbed by a TPMO (Traffic and Parking Management Officer) of Pasig. They are the traffic enforcers wearing blue uniforms, often called "blue boys." This happened on May 8, Friday, around 10am, when I was driving on a bridge in the city. In front of me was a slow tricycle. I checked the opposite lane; it was empty, so naturally I overtook the tricycle.
Little did I know that there was this officer, E.C. Cardenas, waiting down the bridge. He flagged me down, and said that overtaking on the bridge was a violation. He took my license and gave me a ticket.
When I went to their office to pay the fine and get my license back, I was shocked that they were charging me P2,000. Cardenas misled me. He wrote on the ticket that my violation was overtaking on the bridge--which was true--but then he also wrote "Code 57." I discovered that Code 57 stands for "reckless driving," which I didn't commit. Reckless driving is very different from overtaking. He robbed me in broad daylight. He led me to believe that my violation was overtaking, while also writing another violation on my ticket (reckless driving), which has a much higher fine than overtaking. The fine for overtaking on the bridge is P500, while reckless driving carries a fine of P2,000. He just used my violation of overtaking to milk money from me by adding reckless driving on my ticket.
The written violation did not match the code number he added. He deceived me in order to get more money from me. The most painful part is that the personnel in their office were all covering for Cardenas. They all justified his action, saying that between the two violations (reckless driving and overtaking on the bridge), they would fine me with the higher amount, which was reckless driving in this case. They seemed to know that this happens a lot. I asked if I could talk to Cardenas to clarify what he had written on my ticket, but they said he was not around.
ADVERTISEMENT - CONTINUE READING BELOW
I didn't bump or hit anything, or cause any trouble or traffic, to be charged with reckless driving. And if I did drive recklessly, Cardenas should have written that violation in words on the ticket. But he did not--he hid the violation behind a code number so I wouldn't object while he was writing the ticket.
When I went out of the building, the guys outside said that Cardenas needed to reach his quota. That was apparently why he wrote two violations on my ticket. My real violation was written in words, while the fabricated violation was written in code. He did this so he could reach his quota and earn a bigger commission. I have attached the receipt for my payment for the reckless driving violation, as well as the traffic violation ticket that was issued to me.
Please share this with the public so they can be warned.