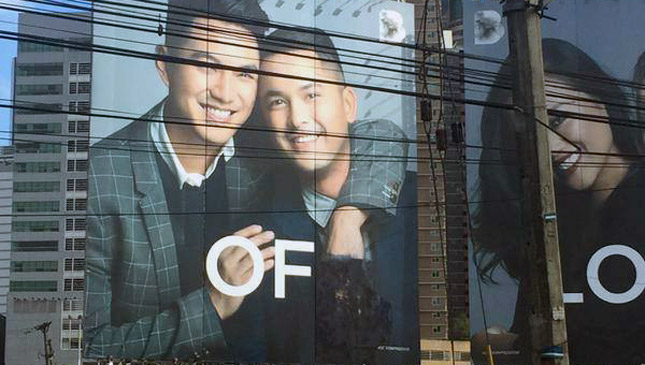 Because it's Valentine's Day, Bench is running an advertising campaign called "Love All Kinds of Love." The two billboards you see above are part of this campaign, and you can see them at the Guadalupe Bridge area on northbound EDSA.
The four couples featured in the campaign are: movie actress Gloria Romero and grandson Christopher Gutierrez; TV personality Solenn Heussaff and boyfriend Nico Bolzico; Preview creative director Vince Uy and event organizer Nino Gaddi; and makeup artist Ana Paredes and interior designer Carla Peña. Nice concept, if you ask us.
However, if you look closely, you will see that the billboard featuring Uy (our Summit Media officemate, by the way) and Gaddi has been "censored." Specifically, the portion that shows the couple's clasped hands has been painted black. One of our websites at Summit, Spot.ph, reports that this was because the Advertising Board of the Philippines didn't find the homosexual undertones of the photo fit for public consumption.
Spot.ph quotes Bench advertising manager Jojo Liamzon as saying: "The Ad Board did not allow us to show the hands; they felt it was too gay."
Yes, the people in charge of regulating advertisements in the country--in the year 2015--are seriously offended by the sight of two male adults locking fingers. Did we mention the year 2015?
As a result, many intelligent (and mature) individuals took to social media and joined the funny crusade to put the couple's hands back, using the hashtag #PaintTheirHandsBack. From the mittens of Mickey Mouse to the metal prostheses of Captain Hook, people have been having fun giving Uy and Gaddi back their expunged hands.
Just wondering: Would you take offense if you saw the original version of this billboard (shown below) while cruising down EDSA?
UPDATE: While Spot.ph quoted Bench advertising manager Jojo Liamzon as ascribing the censorship to the "Ad Board," it should be noted that the task of regulating advertising materials in the Philippines now belongs to the Ad Standards Council.
Top photo from Rob Cham's Facebook page