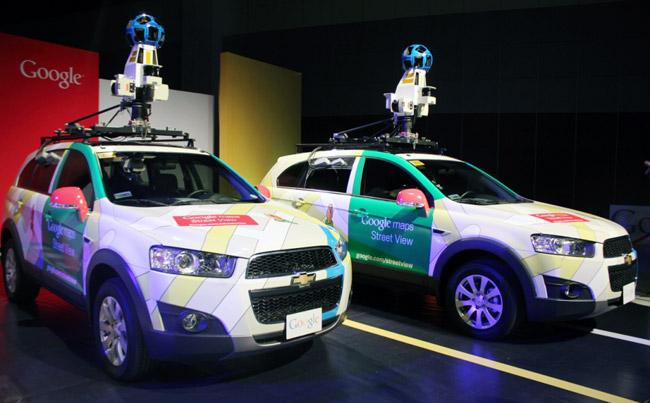 Our editor-in-chief used to have a blast looking at his parents' house in New Jersey via Google Maps' Street View feature, which gives users a panoramic view of the exact location they're looking for. The 360-degree capability of the feature gives one the feeling that he/she is actually in the vicinity. These panoramic images are taken and collected by Google's roving Street View cars around the world, and we are about to see these vehicles driving around the Philippines.
Today, Google Philippines officially announced that it will "start driving Street View cars in the Philippines to capture panoramic imagery of the country for the first time." The tech company also said that the project is in cooperation with the Department of Tourism, and that it is "publishing special 360-degree imagery of four locations within Intramuros so that Filipinos and people around the world can view and experience these historic sites in a new, immersive way."
How exactly does Street View work?
"Street View is a popular feature of Google Maps that allows people to virtually explore cities through 360-degree photographs taken at street level," the press statement said. "With Street View imagery available in over 50 countries, today Google kicks off the first toward bringing the feature to the Philippines. Starting in the city of Manila, Google will drive colorful Street View cars equipped with special cameras to collect panoramic imagery of the Philippines. From there, the cars will continue to drive across the country, and once Street View imagery is published, people will be able to explore the Philippines on Google Maps from anywhere in the world."
Continue reading below ↓
Recommended Videos
In other words, make sure you don't look haggard when the Street View cars come driving by, because your image could be seen around the globe if their high-tech cameras catch you.
"For those keen to start virtually touring Manila today, Google is publishing special Street View panoramas of four sites in Intramuros: San Agustin Church, Baluarte de San Diego, Plaza San Luis Complex and Fort Santiago," said the statement. "These 360-degree photos were collected using the Street View Trekker, a wearable backpack camera system that is part of the Street View fleet. Google plans to use the Trekker, along with the Street View Trolley, a pushcart camera system, to capture more of the Philippines' off-road, natural and indoor destinations as part of their efforts to bring more Filipino sites online for the world to see."
Tell your family and friends overseas; this could be good for homesickness.
"Our partnership with Google to bring Street View to the Philippines will allow us to create a digital experience of our landscapes, which we hope will entice more people around the world to learn about our diverse offerings and visit our country," declared Philippine Tourism Secretary Ramon Jimenez Jr. "For us here at home, Street View can also help make the maps of our country even more fun and interesting, as well as enable Filipinos to explore their country more, which in turn can help boost domestic travel and tourism."
"We are delighted to work with the Department of Tourism to begin capturing Street View imagery of the country," shared Google Philippines country marketing manager Ryan Morales. "The Philippines is a diverse archipelago, with heritage and beauty to be found within and in between every island. By providing people and businesses alike with more useful map information, Street View can also help celebrate Filipino culture and even create lasting economic impact. We can't wait to share the new panoramic road imagery of the Philippines on Google Maps when the imagery launches at a later date."
Google Philippines will make a formal announcement as to when the images of the Philippines are ready to be shared.
Until then, keep smiling and always hold your head up high whenever you walk around the country. You don't want a grotesque version of yourself making a surprise apperance in Google Maps' Street View feature.