Let me share a trade secret with you: Whenever carmakers organize a media test drive--especially one held on a high-speed track--they employ subtle tricks that prevent motoring journalists from driving too fast and eventually wrecking the cars. Some might incorporate a really slow chicane into the track layout. Others might set an "ideal time" within which to finish the course (as opposed to a fastest-time-of-the-day format).
But the most common trick that test-drive organizers do is announce some sort of a penalty for every cone that you hit as you negotiate the track. Let's say, for example, a time penalty: If you hit a cone, an additional five seconds will be added to your time. This usually discourages the kamikaze drivers from really stepping on the throttle, especially when there are prizes involved. And so accidents are avoided.
But when Lexus brought us yesterday to a former military airbase in El Toro, California, to test the new GS sports sedan, we were greeted by this sight...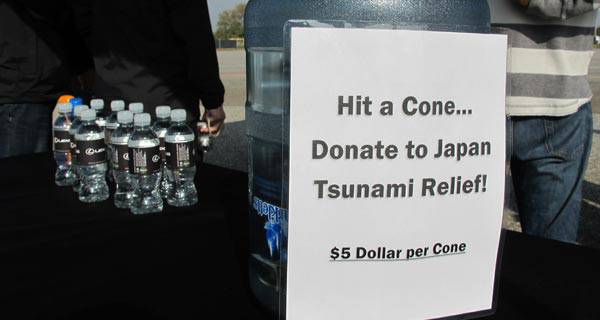 Continue reading below ↓
Recommended Videos
That's right. If we hit a cone on the track, we'd have to put $5 (P220) into the "Japan Tsunami Relief" jar. Pretty nice touch on the part of Lexus, if you ask me. When I went out on the track--first in a GS450h and then in a GS350--I was actually prepared to cough up $20, good for four cones. I figured it would go to a good cause anyway. The makeshift track included a slalom, a double-lane change and a couple of tricky curves.
Here's the thing: The new GS wouldn't let me hit any cone! I drove two laps with each of the above-mentioned GS variants, going at it as fast as my driving skills would allow me. In fact, I was almost deliberately trying to hit a cone just so I could donate to Japan's tsunami victims. No kidding. The closest I came to hitting one was on a fast bend, but then the car stubbornly corrected my line and refused to touch a poor cone. I should have mowed down a row of cones instead, but then I realized it would cost me at least $100.
Watch for our Lexus GS story in the magazine; I'll tell you how Lexus built a sports sedan that makes even bad driving look good. In the meantime, here's a photo of me donating to the Japan tsunami victims even if I failed to hit a single cone.