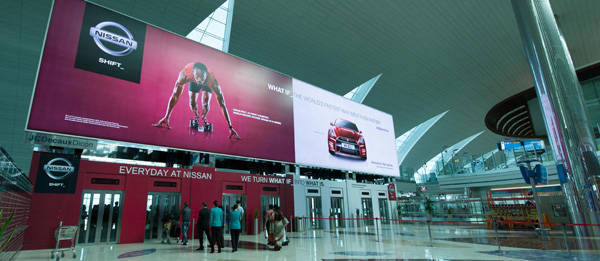 Olympic gold medalist and "world's fastest man" Usain Bolt has another world record under his name. Thanks to Nissan, a billboard featuring Bolt's image and the Nissan GT-R has been recognized by Guinness World Records as "the largest indoor illuminated advertising sign."
Located in Terminal 3 of the Dubai International Airport, the billboard measures 28m in length and 6.2m in height, with a surface area of 174sqm and illuminated by 183,024 white LEDs.
Nissan even estimates that it would take Bolt--the 100m-dash world record holder at 9.58sec—2.7 seconds to run across the length of the billboard, the same time it would take a 2013 Nissan GT-R to accelerate from 0 to 100kph.
According to Nissan Middle East managing director Atsuo Kosaka: "When we began this project, we were bold enough to ask ourselves, 'What if we can turn our advertising at Dubai International into a world record?' Today, we see the result of that commitment as we once again deliver 'Innovation that Excites' into everything we do in the Middle East region."
ADVERTISEMENT - CONTINUE READING BELOW ↓