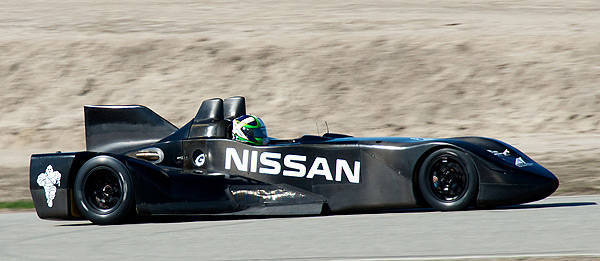 That's right! What you're looking at isn't a car from the upcoming Batman sequel The Dark Knight Rises. It's actually a radical motorsport project conceived by Nissan that will take part in the legendary 24 Hours of Le Mans endurance race in June.
Known as the Nissan DeltaWing, it has half the weight and aerodynamic drag of a conventional racer, and will be powered by a race-prepared, turbocharged and direct petrol injected 1.6-liter four-cylinder engine. With an expected output of around 300hp, Nissan believes the DeltaWing's lap times will be between the ones recorded by LMP1- and LMP2-class race cars despite producing roughly half of the power outputs of these conventional prototypes.
The DeltaWing is unlike any other race car as the driver sits well back in the car, almost over the rear axle, and looks down a long, narrow fuselage to narrow twin front tires specially created for the car by Michelin. With a rear-mounted engine, the car has a strong rearward weight bias that, Nissan claims, makes it highly maneuverable. Its light weight and slippery shape make it far more efficient.
With its innovative design and forward-looking technology, the Automobile Club de l'Ouest, the organizers of the 24 Hours of Le Mans, has invited Nissan to run in this year's race from 'Garage 56,' the spot in the pitlane reserved for experimental cars. As it doesn't conform to any existing championship regulations, the Nissan DeltaWing will not be eligible to challenge for any trophies and will carry the race number '0'.
"As motor racing rulebooks have become tighter over time, racing cars look more and more similar and the technology used has had less and less relevance to road car development. Nissan DeltaWing aims to change that and we were an obvious choice to become part of the project," said Andy Palmer, executive vice president of Nissan Motor. "But this is just the start of our involvement. Nissan DeltaWing embodies a vast number of highly-innovative ideas that we can learn from. At the same time, our engineering resources and commitment to fuel efficiency leadership via our PureDrive strategy will help develop DeltaWing into a testbed of innovation for Nissan."
If you're viewing this on a mobile device and can't see the video, please click here.
[gallery]1180[gallery]