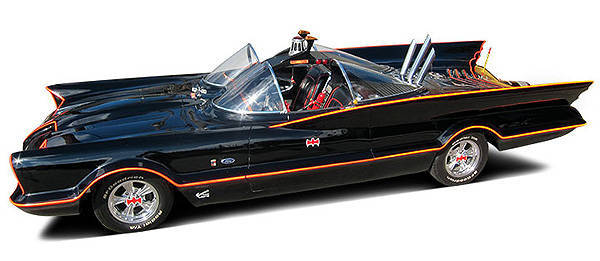 Barrett-Jackson, a popular auction house that specializes in automobiles, has sold the original Batmobile from the 1966 Batman TV show for $4.62 million (P187 million), making it "the highest-selling car at the company's annual Scottsdale Auction." The winning bidder, Rick Champagne, reportedly owns a logistics company in Arizona.
The Batmobile first started out as a 1955 Lincoln Futura concept car built by Italian coachbuilder Ghia by hand. Sold to custom car designer George Barris for $1 by Ford a few years later, the Futura sat idly at his workshop until he was tapped by the TV show's producer, William Dozier, in 1966 to create a Batmobile in 15 days with a $15,000 budget.
Realizing that the Futura concept and its winged shape was the perfect vehicle to base Batman's crime-fighting car on--and with just 15 days to come up with a car from scratch--Barris redesigned it to create the Batmobile which children from the late 1960s to the early 1980s grew up with.
Although Barris reportedly created four replica Batmobiles, the one that went under the gavel was the very first one he made for the TV show. As proof of the Barris-designed Batmobile's impact on pop culture, a few small-scale carmakers have come out of the woodwork selling full-scale working replicas of the real thing, with one company even stating that what they sell are "officially licensed" copies.
Continue reading below ↓
Recommended Videos
Do you think the original Batmobile is worth every dollar of $4.62 million?
Photo from Barrett-Jackson's SalonCollection.com