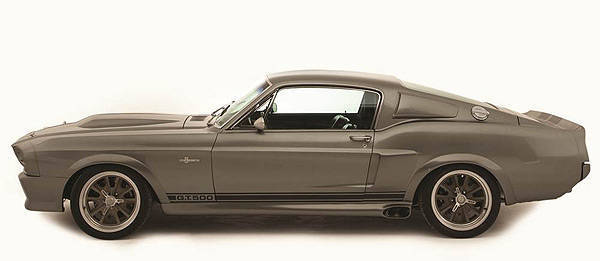 So, you want to top all the Gone in 60 Seconds 'Eleanor' lookalike that permeates at car shows? Then how would you like to show up in the real thing--and we mean the actual car that was in the 2000 remake that starred Nicholas Cage? This weekend, auction house COYS is putting up one of the 12 modified Ford Mustang GT 500 that was used in the film.
Although the Eleanor in the original 1974 film was a 1973 Ford Mustang Mach 1, producers of the 2000 remake wanted a different one that would stand out against the many exotic cars featured in the movie. To do that, they turned to famed Hot Rod illustrator Steve Stanford to create a 1967 Mustang GT 500 like no other.
To turn Stanford's drawing into reality, the producers tapped the services of famed hot-rod designer and fabricator Chip Foose. Working with Ray Claridge of Cinema Vehicle Services in North Hollywood, the car was given new wings with new wider wheel arches, a new bonnet with a prominent bulge, a deep front valance and side skirts and a boot lid-incorporated spoiler. PIAA lights were installed in both the nose and tail and a distinctive billet grille was specified. Completing the exterior was the Schmidt 17x8-inch wheels while the interior was kept as a standard Shelby but with the addition of a monster tachometer and a subtle roll hoop.
Continue reading below ↓
Recommended Videos
Besides the bodywork modifications, the car's 289 cubic inch V8 was replaced with a 351-cubic-inch Ford Racing crate motor fitted with a 'big' camshaft and a 700cfm Holley 4-barrel carburetor. The front suspension was lowered with coil overs by Total Control Products while Willwood disc brakes was fitted all round with six piston calipers on the front. Though not functional in the movie, the side exhausts were reportedly made functional by Cinema Vehicle Services when filming was completed.
Although a total of 12 cars were built for the film--five of which were stunt cars that didn't survive the filming--the car on auction is one of only three 'hero' cars which were not only functional but were used for scenes that involved the actors themselves. In addition, Claridge confirms in an accompanying letter that the car is one of only two original cars in private hands.
"We are offering an unrepeatable opportunity to acquire one of the cars that actually appeared in the movie--this is the car that all the others are reproductions of. This is the original," COYS said in a statement.