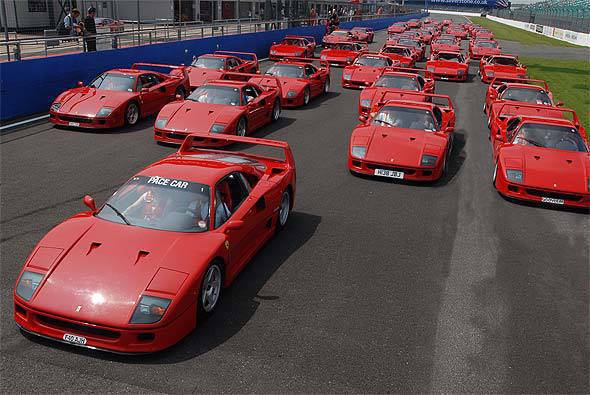 How many Ferraris can actually gather in a single venue? In 2007, the Ferrari Owners' Club of Great Britain managed to bring together 40 F40s in Silverstone for the supercar's 20th anniversary. This July, the group is attempting another record to celebrate the F40's 25th year.
"Our original aim was to get at least 25 of these Ferraris together and, as I have contacted owners, I have been gratified that so many want to be a part of the celebration--so much so that we now have more than 50 F40s registered for the event with more still to come!" said club coordinator Nigel Chiltern-Hunt.
The Ferrari F40 parade will take place once again in Silverstone--said to be the perfect venue for the model's milestone.
"It was, of course, at Silverstone in 1951 that Ferrari achieved its first grand prix win and, since then, the circuit has witnessed countless more Ferrari victories, most recently when Fernando Alonso won last year's British Grand Prix," Chiltern-Hunt said. "With such a rich sporting history, it's no surprise that so many fabulous Ferraris star in many of the major races staged at the Silverstone Classic."
ADVERTISEMENT - CONTINUE READING BELOW ↓
Why is this such a big deal? Here are some facts you need to know about the Ferrari F40.
* It was introduced in 1987 to celebrate the 40th anniversary of Ferrari
* It is the final car commissioned by the famous Italian brand's founder, Enzo Ferrari
* The Ferrari F40 was the world's first 200mph production road car. Its twin-turbocharged V8 engine produces a whopping 478hp, making enthusiasts hail it as the 'greatest supercar of all time'
* Only 1,315 units of the F40 were produced in Maranello between 1987 and 1992
Know of other fun facts about the F40? Feel free to share them by using our comment box below.
ADVERTISEMENT - CONTINUE READING BELOW ↓
Recommended Videos