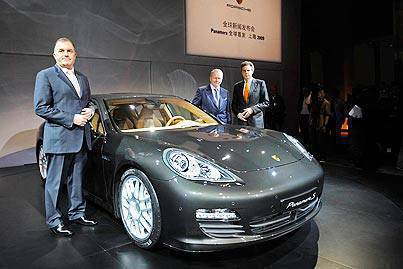 Porsche unveiled the Panamera grand tourer at the Shanghai International Automobile Industry Exhibition - marking the Chinese mart's importance to carmakers.

Although official images of the four-door Panamera have been available for some time, the actual car is made available for public viewing for the first time at the Shanghai motor show.

"(With) the Panamera, we are entering a market segment completely new for our customers and we are once again consistently expanding our model portfolio," said Klaus Berning, executive vice president for sales and marketing of Porsche AG.

The Panamera will first come with eight-cylinder engines delivering 400 horsepower for its naturally-aspirated powerplant and 500 horsepower for its turbocharged version. Both will be available with either rear-wheel or all-wheel drive, with a six-cylinder petrol model and a hybrid version following later.

The Panamera is also set to introduce at least five technological innovations as 'world's first' for a luxury performance vehicle - including the first Start-Stop system in conjunction with automatic transmission, as well as active aerodynamics with an adjustable, multi-dimensional, extendable rear spoiler on the Panamera Turbo.

Porsche's fourth model series is set to go on sale in September and will initially be available in Germany, its home market.

Read more about the Panamera in the style review of columnist Brian Afuang in the 50th issue of Top Gear Philippines magazine.


Continue reading below ↓
Recommended Videos