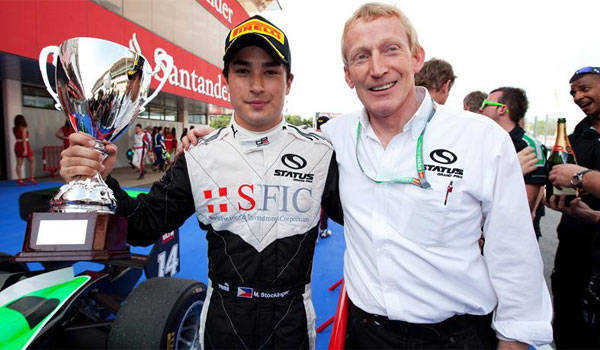 Filipino driver Marlon Stockinger has put the Philippine flag back on the global motorsports map by finishing second in the opening race of the 2012 GP3 Series this weekend at the Circuit de Catalunya in Spain. The two 16-lap GP3 races on Saturday and Sunday served as support events to the Spanish Formula 1 Grand Prix.
Stockinger, driving Car No. 14 for Status Grand Prix, qualified fifth for the first race. He made the most of the opportunity by finishing just 2.6 seconds behind winner Mitch Evans (New Zealand) of MW Arden. Stockinger scored 18 points for the effort, seven points off Evans.
For the second race the following day, however, Stockinger failed to score a single point as he wound up in 19th place. The GP3 Series has a different format compared to Formula 1 in that the second race of every two-race round follows a reverse grid order for the top eight finishers of the first race. Which meant Stockinger had to start the second race in seventh. US driver Conor Daly, who finished sixth in the first race, won the second race after starting third on the grid. First-race winner Evans likewise failed to score a point in the second race.
"Coming from Asia, it's a lot more diffirent than coming from Europe to settle into everything," Stockinger said during the press conference. "I think I am with a better team now, and I think when all these cards come into play, the results improve. I think winter testing went well and we were very consistent."
Stockinger is now sixth in the overall championship standings, with the second round scheduled for May 25-26 in Monaco.
The 21-year-old Marlon Stockinger placed 28th overall in the GP3 Series last year. In 2010, he finished eighth overall in Formula Renault UK, improving upon his 25th-position showing in the same series the previous year. In 2008, he was also eighth overall in Formula BMW Pacific while also racing in Formula BMW Europe.
Do you think this signals the start of another wave of world-class Filipino racing drivers?