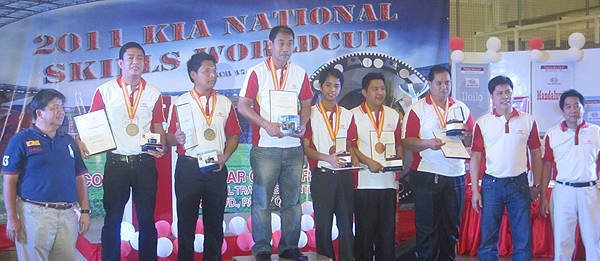 Representatives from Kia dealerships in Mandaue (Cebu), Pasig and Pampanga will compete for the Philippines in upcoming regional and global battles for technical automotive skills.
The contestants were chosen after Columbian Autocar Corporation, distributor of Kia vehicles in the Philippines, staged the 6th National Skills World Cup at the Columbian Technical Training Center in Pasay City. The two-day skills competition was composed of written and practical examinations.
After the scores were tallied, the dealers that topped the different categories are: Kia Mandaue (Cebu) for Service Advisor, Kia Pasig for Technician and Kia Pampanga for the Parts Man category. Kia Pasig also received a special award as all its representatives for the three categories qualified in the final round.
The winners of the Service Advisor and Technician categories will represent the Philippines in Kia Motors' regional and global skills competition. Kia Mandaue (Cebu) will go to Korea to compete with other service advisors for the Global Service Advisors Competition while Kia Pasig will compete with other technicians in Malaysia for the Regional Skills World Cup. Both competitions will be held this year.
Kia's National Skills World Cup is held bi-annually to "develop the proficiency and pursuit of excellence of after-sales personnel to meet the customers' needs." It also serves to enhance the knowledge in diagnosis, troubleshooting and customer service of the representatives of Columbian Autocar's dealers nationwide and demonstrates how the company is "working on its commitment of a Family-like Care Service."
Continue reading below ↓
Recommended Videos