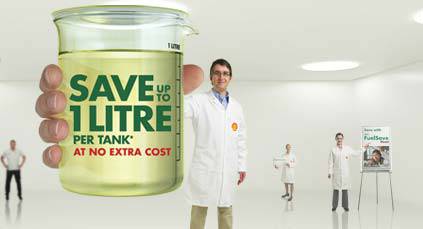 It's been exactly a year since TopGear.com.ph got wind of Shell's plan to bring FuelSave, a new product designed for improved fuel efficiency, to the Philippines. And it's finally happening. On July 11, Pilipinas Shell will officially announce the availability of FuelSave in the country.
Shell FuelSave, which has been available in other Southeast Asian countries since 2010, promises to save motorists up to one liter per tank.
"Shell FuelSave Unleaded and Shell FuelSave Diesel...contain the most advanced Shell fuel economy formula to date," Shell said in a statement. "Both fuels include a Shell Efficiency Improver, which has been specially designed to improve fuel efficiency at no extra cost."
According to Shell, FuelSave Unleaded is formulated to keep the inlet valves of a vehicle clean. The Shell Efficiency Improver in FuelSave also reduces energy losses in the engine as it lubricates parts "where normal engine oils are less effective."
The FuelSave Diesel formula, on the other hand, is designed to ignite and burn more effectively than regular diesel. This leads to a more effective combustion to help drivers save fuel.
ADVERTISEMENT - CONTINUE READING BELOW ↓
Unleaded and diesel variants of FuelSave will be sold in the Philippines at a price similar to the current rates of ordinary gasoline and diesel fuels.
"That's our product proposition: to offer a product with better quality at the same price," said Pilipinas Shell country chairman Edgar Chua, who added that the octane rating of the fuels will also be at par with other products in the Philippines today.
Photo from Shell
ADVERTISEMENT - CONTINUE READING BELOW ↓
Recommended Videos