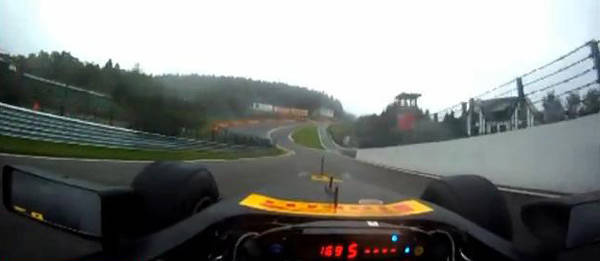 We've seen countless videos giving us a sample of what a driver's perspective is like inside a Formula 1 car. The problem, however, is that what we're seeing is not entirely accurate as the videos usually have the camera mounted either somewhere at the top or beside the driver's helmet.
Now, we're given the actual viewpoint of a Formula 1 driver through Pirelli tire-tester and ex-F1 driver Lucas di Grassi's eyes.
To make this possible, the camera was mounted right in front of di Grassi's helmet, covering what we assume is his left eye. And since we all know that depth perception is vital when driving, you can just imagine how hard it was for di Grassi to navigate a wet Spa-Francorchamps with just his right eye.
"I had to drive with only one eye open as the camera was blocking my other eye--quite tricky," said di Grassi after his run.
Di Grassi first drove Pirelli's Formula 1 test car using a similar camera setup in October 2011 at the Circuit de Catalunya in Barcelona, Spain.
Wouldn't it be great, though, if every F1 race saw all the drivers with a similar camera mounted on their helmet?
If you're viewing this on a mobile device and can't see the video, please click here.
Continue reading below ↓
Recommended Videos