As if being partly-owned by Volkswagen isn't enough to gain access to a high-speed circuit--the Ehra-Lessien test facility--Porsche has announced that it will take over the Nardò Technical Center automotive proving ground at Apulia in southern Italy by May 2012.
"The Nardò proving ground with its high-speed and vehicle handling circuit ideally complements our facilities in Weissach. With the systematic development of the company in Nardò as part of Strategy 2018, Porsche is proving to be a reliable employer and business partner in Apulia as well," said Matthias Müller, president and chief executive of Porsche AG.
According to Porsche, the automotive proving ground occupies an area of more than 700 hectares and has a 6.2-kilometer handling circuit, a 12.5-kilometer oval circuit and "facilities for simulating different road surfaces and changeable weather conditions." The German carmaker added it will further optimize the test facilities and make it available "to its clients for testing and trials purposes." Thanks to the area's mild climate, Porsche claims the proving ground is capable of operating throughout the year in three shifts around the clock, seven days a week.
"With its rich array of facilities, from dynamic surfaces to acoustic and off-road sections coupled with the numerous workshops, our clients can continue to make extensive use of Nardò for their vehicle trials in the future as well," said Malte Radmann, chief executive of Porsche Engineering.
In case you're interested to know how massive a 700-hectare facility is, it can actually be seen from space, particularly the 12.5-kilometer oval circuit.
ADVERTISEMENT - CONTINUE READING BELOW ↓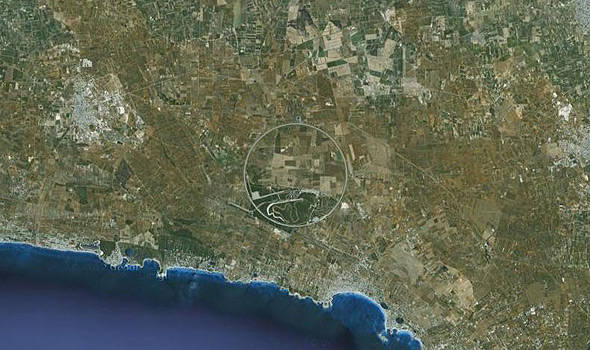 ADVERTISEMENT - CONTINUE READING BELOW ↓
Recommended Videos