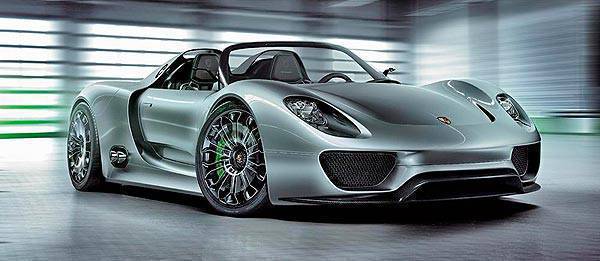 Porsche has decided to put the 918 Spyder into production after an overwhelming response from both the public and the German carmaker's customers to the car's concept study.
"Production of the 918 Spyder in a limited series proves that we are taking the right approach with Porsche Intelligent Performance featuring the combination of supreme performance and efficient drivetrain concepts," said Michael Macht, president and chairman of Porsche AG's management board. "We will develop the 918 Spyder in Weissach and assemble it in Zuffenhausen. This is also a very important commitment to Germany as a manufacturing base."
The plug-in hybrid Porsche 918 Spyder has the performance of a thoroughbred super sports car while consuming just three liters of fuel for every 100 kilometers. This gives it an equivalent carbon dioxide emission rating of 70 grams per kilometer--similar to that of a compact car.
The open two-seater is powered by a V8 engine that pushes out more than 500hp while the electric motors on the front and rear axle add an additional 218hp. With the engine positioned midship in front of the rear axle, the 918 Spyder is perfectly balanced and has the right set-up for supreme performance on the track. Translating all that power to the wheels is a seven-speed Porsche-Doppelkupplungs-getriebe. This also feeds the electric drive system's power to the rear axle while the front-wheel electric drive is powered through a firm transmission ratio.
Continue reading below ↓
Recommended Videos
Porsche said it will reveal more details about the production version of the 918 Spyder in the coming months.