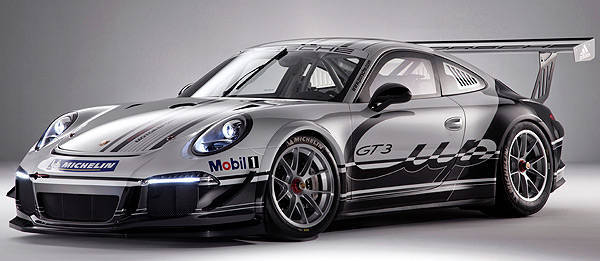 Porsche has revealed its customer race car for the 2013 racing season in the all-new 911 GT3 Cup.
With 2,395 units produced since 1998, Porsche calls the 911 GT3 Cup "the most successful race car in the world." Available exclusively in white, the all-new 911 GT3 Cup is the first race car based on the seventh-generation 911, which debuted over a year ago at the 2011 Frankfurt Motor Show, and is the motorsport version of the upcoming 911 GT3 road car.
The car is powered by a 3.8-liter, flat-six engine that puts out 453hp. Putting the power to the rear wheels is a six-speed transmission developed by Porsche Motorsport that, for the first time in a Porsche Cup race car, can be operated via shift paddles on the steering wheel.
The 911 GT3 Cup also features a newly developed braking system, which consists of 380mm-diameter slotted and inner-vented steel brake discs with aluminum six-piston fixed calipers at the front and four-piston versions at the back.
Another Porsche Motorsport-designed item of the car is its single-piece race wheels with center mount. Up front, the width of the Michelin race slicks has increased by two centimeters to 27cm at the front, and by one centimeter at the rear axle to 31cm.
Continue reading below ↓
Recommended Videos
Inside, a new safety cage protects the driver in case of a roll or a collision, while a newly developed race seat (distinctively shaped around the head and shoulders) can be adjusted individually with the help of padding. Furthermore, a rescue hatch in the roof provides easy access for primary medical attention and for the extraction of the driver.
Like its predecessor, the all-new 911 GT3 Cup is produced in Stuttgart-Zuffenhausen on the same assembly line as the road cars. At the Motorsport Center in Weissach, it receives a general setup for the circuit and is tested by a professional race driver before delivery to customers.
"The new 911 GT3 Cup is much easier to drive at the limit," said Porsche factory race driver Timo Bernhard, who was closely involved in the development of the new racer. "The car is excellently balanced. The new axle geometry is enormously positive for the handling. Apart from that, the new 911 GT3 Cup is great fun to drive!"
[gallery]1325[gallery]