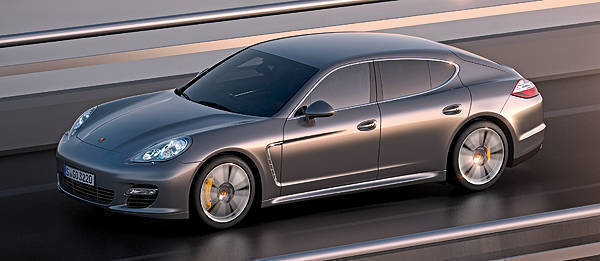 Porsche isn't quite done tinkering with the Panamera as it just unveiled what is now the nameplate's range-topping variant--the Panamera Turbo S.
Calling it "a unique combination of performance and efficiency, driving dynamics and comfort," the Porsche Panamera Turbo S outperforms the lower-spec Turbo variant while exhibiting nearly the same amount of efficiency.
The Panamera Turbo S's 4.8-liter V8 biturbo engine delivers 550hp, 50hp more than that produced by the Panamera Turbo's powerplant. Torque is also bumped up to 750Nm, 50Nm more than that of the Panamera Turbo's. Even with the Overboost function, the Panamera Turbo S's torque is 30Nm more than the 770Nm put out by the lower-spec variant.
With Launch Control, the Panamera Turbo S's zero-to-100kph sprint takes only 3.8 seconds while its top speed is at 306kph, beating the 4.2-second zero-to-100kph sprint and 303kph top speed of the Panamera Turbo.
Porsche credits the increased performance of the Panamera Turbo S to its improved turbochargers and modified engine control. According to Porsche, using innovative titanium-aluminum alloy for the turbine wheels reduces the weight of the turbine and compressor wheel which results in a lower moment of inertia and in improved and more agile engine responsiveness.
ADVERTISEMENT - CONTINUE READING BELOW ↓
Despite the increased performance, Porsche said fuel consumption has hardly changed with the Panamera Turbo S. The car sips 11.5 liters of fuel for every 100 kilometers, just 0.4 liter more than the Panamera Turbo's consumption over the same distance. The 19-inch, all-season tires with optimized rolling resistance developed for the Panamera by Michelin also helps reduce the Panamera Turbo S's fuel consumption to just 11.3 liters for every 100 kilometers.
The Panamera Turbo S will reach the global market in June.
[gallery]850[gallery]
ADVERTISEMENT - CONTINUE READING BELOW ↓
Recommended Videos