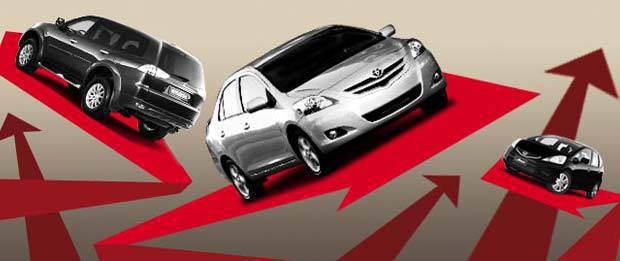 The Philippine automotive industry saw a turnaround in sales due to high demand of cars in October, right after the
flood brought by typhoon Ondoy left thousands of vehicles beyond repair
.
Data from the Chamber of Automotive Manufacturers of the Philippines, Inc. (CAMPI) said sales surged 20.1 percent year-on-year with October 2009 sales reaching 12,761 units. Passenger cars sold for the month were down 0.4 percent while commercial vehicle sales were up 2.3 percent.
The number of cars sold last month was 12.9 percent higher than the sales posted in September.
The latest sales data brings the industry closer to its 125,000-unit sales target for the year, with the year-to-date sales already 1.3 percent higher than the sales in January to October 2008.
Continue reading below ↓
Recommended Videos
"Auto players have aggressively offered a wider product line coupled with low-cost financing packages to help buyers purchase their vehicles. The goal was to sustain sales, preventing it from dipping into negative territory," CAMPI president Elizabeth Lee said.
Lee added the industry would most likely achieve its target with the cooperation of banks offering schemes which make purchasing a car easier for motorists.
"Overall, industry players are optimistic targets can be achieved barring any major negative developments," Lee said. "Banks have continued to support the industry with availability of financing at lower rates, OFW (overseas Filipino workers) remittances which are seen to increase during the holiday season will continue to support consumption and players are offering promotions which make acquisition easier."
PHILIPPINE AUTOMOTIVE SALES PERFORMANCE as of OCTOBER 2009
Ranking
Car Company
January to October 2009
January to October 2008
Percentage Change
Current market share
12
Asian Carmakers Corp. (BMW)
467
547
-14.6%
0.4%
8
Columbian Autocar Corp. (Kia)
3,008
3,787
-20.6%
2.8%
14
Columbian Motors Corp.
273
291
-6.2%
0.3%
17
Dreamco
117
42
178.6%
0.1%
6
Ford Motor Co. Philippines, Inc. (+Mazda)
6,286
6,476
-2.9%
5.9%
11
General Motors Automobiles Philippines, Inc.
1,139
2,101
-45.8%
1.1%
3
Honda Cars Philippines, Inc.
14,534
12,462
16.6%
13.7%
4
Hyundai Asia Resources, Inc.
8,990
8,910
0.9%
8.5%
5
Isuzu Philippines Corp.
7,080
8,453
-16.2%
6.7%
18
MAN Automotive Concessionaires Corp.
12
18
-33.3%
0.0%
2
Mitsubishi Motors Philippines Corp.
18,806
14,543
29.3%
17.7%
10
Nissan Motor Philippines, Inc.
1,851
2,596
-28.7%
1.7%
15
PGA Cars, Inc. (Porsche/Audi)
223
194
14.9%
0.2%
13
Pilipinas Hino, Inc.
316
327
-3.4%
0.3%
16
Scandinavian Motors Corp. (Volvo)
219
212
3.3%
0.3%
9
Suzuki Philippines, Inc.
2,078
1,875
10.8%
2.0%
1
Toyota Motor Philippines Corp.
36,593
37,860
-3.3%
34.5%
7
Universal Motors Corp.
4,154
4,063
2.2%
3.9%
Data source: Joint CAMPI and Truck Manufacturers' Association Sales Report