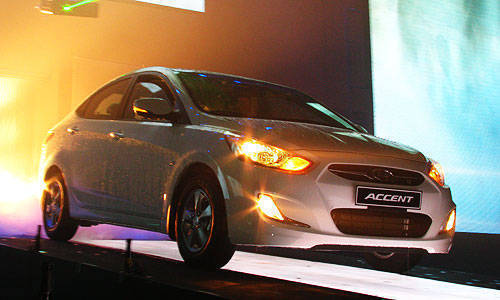 Hyundai has finally revealed the price of the Accent sedan, the Korean carmaker's latest offering in the Philippine market.
Hyundai Asia Resources (HARI) president and chief executive Fe Perez-Agudo said the entry-level 1.4-liter Accent with five-speed manual transmission costs P588,000. This machine delivers 107hp and 136Nm of torque.
The top-of-the-line 1.6-liter Hyundai Accent comes at a more expensive price at P808,000 for the power of 122 horses and a torque of 156Nm.
"As you can see, there are lots of 8s," Perez-Agudo said.
Could this be a lucky number for the Hyundai Accent? We'll see when sales results from the Chamber of Automotive Manufacturers in the Philippines' report comes out.
In the meantime, in case you're wondering why there's such a big difference between the two Accent variants, do remember Hyundai is planning to bring in a diesel-powered version of the sedan. But at the current rates, do you think HARI made the right pricing decision?
Photo by Patrick Tadeo
Continue reading below ↓
Recommended Videos