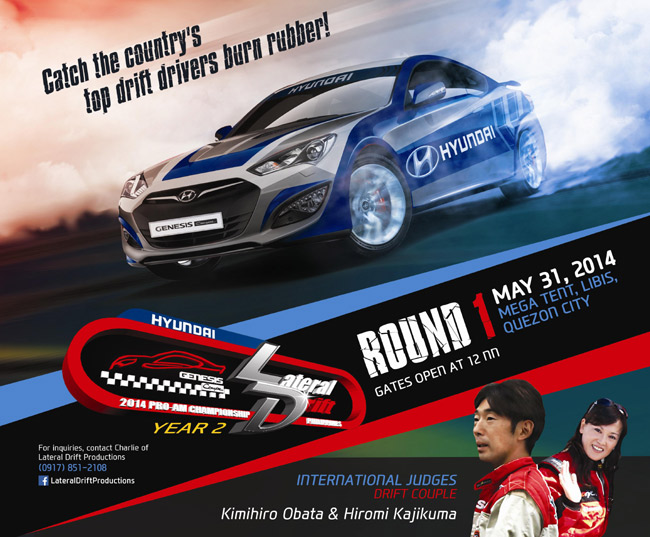 The 2014 Hyundai Lateral Drift Championship series will kick off this weekend--on May 31, Saturday, to be exact--at the C5 Mega Tent area in Libis, Quezon City.
All eyes are on last year's pro division champion Gio Rodriguez as he defends his title against former champions Alex Perez and Audel Sison. After topping the amateur division last year, Mark Bernando will be making the leap to the pro division this year. Also joining the pro division are EJ Malibiran and Luis Gono (who, at 15 years old, is the youngest driver in the series).
Serving as judges for this year's races are Japanese drifters Kimihiro Obata and Hiromi Kajikuma and former Lateral Drift competitor Jason Choachuy.
Practice for this weekend's race will start at 10am for the amateur division, while qualifying for the professional division will start at 3pm. The actual competition will be held at night "so that the competitors and the spectators will see and enjoy all the action away from the heat of the sun."
ADVERTISEMENT - CONTINUE READING BELOW ↓
As always, the event is free and open to the public.
It looks like it's going to be another good weekend for Philippine motorsports.
ADVERTISEMENT - CONTINUE READING BELOW ↓
Recommended Videos