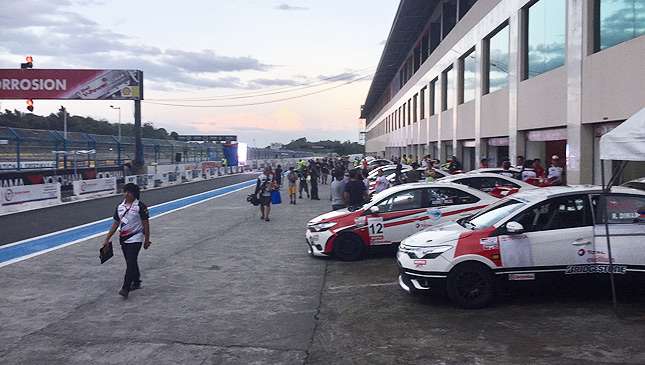 The energy was still high, even off the track, at Clark International Speedway as the season for waku-doki ended with a bang. Even though I wasn't able to catch the races earlier that day, I could sense the revelry among the teams as we awaited the awarding program early that evening.
Before hitting the stage, I did a quick walkthrough around the pit areas to touch base with some of the drivers and teams. Apparently, the day had its share of mishaps like Miko Maristela's (Toyota Quezon Avenue) turn turtle crash and Jon Effinger's (AP Corse/Toyota Makati) fender-bender. Despite the fierce competitiveness of its participants, everyone came out unscathed, thankfully.
Continue reading below ↓
Recommended Videos
As the announcements started rolling for the awards being presented, so did the beer bath party. Of course, JP Tuason of Tuason Racing School was ready for the malt mayhem wearing his slippers and shorts!
Fabio Ide really showcased his evolution in the sport by bringing home the bacon in rounds 1 and 2 of the Celebrity Class category. Dominique Roque, Ella Cruz, Gretchen Ho, Jake Cuenca, and power couple Troy Montero-Aubrey Miles performed very well in said class with their checkered flag standings.
In the Promotional Class Round 1, Gel Napat came up top while Red Diwa stole the show for Round 2. Marc Soong, Vincent Courcol, Clive Fermin, and Don Vic Portugal all found their way in the top five slots for both races.
Former Celebrity Class driver Sam YG brought out the beast within and championed Round 1 for the Sporting Class category while Mark Sy claimed the top slot in Round 2. Sean Velasco, Tonton Ramos, Paulo Agregado, Rhaffy Latorre, Aira Medrano, and Lord Seno all made podium finishes for said category.
The crème de la crème Super Sporting Class was initially spearheaded by Allan Uy in Round 1. At the end of the day, the highly focused and determined newcomer Daniel Miranda (Team Obengers), was crowned this season's overall champ with Ramon Tanjuatco (AP Corse/Toyota Makati) coming in at a close second, followed by Dominic Ochoa placing a strong third, Keith Bryan Haw in fourth and, last but not the least, Allan Uy filling in the fifth slot.
Other significant awards for the event were:
* Overall Best Male Celebrity Driver - Fabio Ide
* Overall Best Female Celebrity Driver - Aubrey Miles
* Fastest Lap Promotional Class - Red Diwa (2:27.375)
* Fastest Lap Sporting Class - Paulo Agregado (2:26.973)
* Fastest Lap Super Sporting Class - Ramon Tanjuatco (2:24.153)
* Driver of the Day - Daniel Miranda
* Most Improved Celebrity Driver - Troy Montero
* Executive Promotional Race 7 and 8 Champion - Vincent Courcol
For the Team Awards, Team Obengers bagged a winning score of 288 points. The team comprises Daniel Miranda, Marc Soong, JV Ejercito, Paulo Agregado, Robert Lilles, Keith Bryan Haw, and Raymond Ronquillo.
Champion Daniel Miranda will move on to represent the Philippines in the international circuit with Toyota Gazoo Racing Team Asia in the very near future. Mr. Miranda and his teammates will train for the Super Endurance 600 in Chang International Circuit, from the 14th through 16th of this month.
Congratulations and we are sure you'll make our country proud!