Max Verstappen, Red Bull Racing (Winner)
"It was amazing for us to win in the end, but it was really tricky out there. To come out on top, it was all about trying not to make too many mistakes. I was very happy with the whole performance."
Sebastian Vettel, Ferrari (2nd)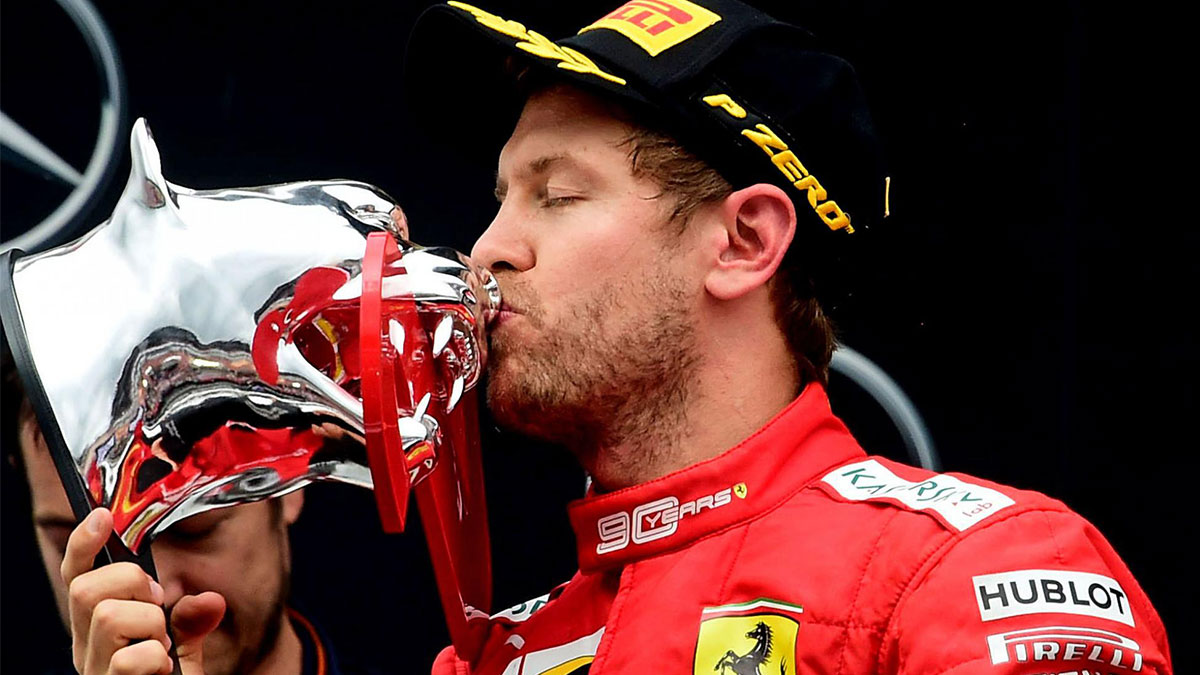 "That was quite a race. I enjoyed it even though it was a tricky race, something of a lottery. It was a very long one and I don't even remember all of it.
"To be honest, in these kinds of races, you can't count on anything until the last couple of laps. I think I was about P8 when the last safety car came out. There are so many decisions to make, but overall, we stayed on track and in the race."
Daniil Kvyat, Scuderia Toro Rosso (3rd)
ADVERTISEMENT - CONTINUE READING BELOW ↓
"It is amazing to be back on the podium and incredible to bring a podium back to Toro Rosso. At some point, I thought the race was done, but it was incredible, a roller coaster, just like my career."
Lance Stroll, Racing Point (4th)
"I'm really happy with that. What an amazing day! Fourth place feels great considering everything that happened this afternoon. I was running at the back for most of the race; I spun a couple of times and we pitted five times! As special as it is to finish fourth, I am disappointed that the podium slipped away from us."
Carlos Sainz, McLaren (5th)
"Quite an intense Sunday and a good day for Formula 1. On my side, I'm very happy with that P5. Obviously, the podium opportunity was there and now it's easy to say we could've made it, but when we were P5 under the safety car, it was a very tough call to pit for slicks and nobody around me was stopping.
"We decided not to and the guys who were further behind had more margin to take that risk. In general, we made the right decisions at the right time. Clever race and well-managed under stressful conditions, so congratulations to the team."
Alexander Albon, Scuderia Toro Rosso (6th)
"It was a good race today! I was a bit scared at the start, learning how the car behaves in the wet around this track, although I'm really happy with how I performed as it was my first time in these conditions in an F1 car."
Romain Grosjean, Haas (7th)
"I'm very happy with the double-points finish. It was obviously a bit of a crazy race. I don't think we've quite sorted our race pace. When you see the midfield being in front of us and only the Williams behind. Anyway, we survived when we had to survive, but it was very difficult. You saw all the top guys going out and off the track—conditions were very tricky. I'm happy to have a double-points finish, but when you see a Toro Rosso on the podium, you wish you were there. With all the experience we have, we should be able. It's just that the race pace on inters and slicks wasn't good enough."
Kevin Magnussen, Haas (8th)
"It was a very crazy race. It was entertaining and exciting all the way through. There are always hard decisions to make with all the changing weather, having to decide the tires, and so on. The way we earned the point today was to be good on the dry tire in the mixed conditions. That's when we made up on the opposition. In the dry we didn't have any pace, so we fell back. At least we got both cars in the points, I don't think we could have done that in the dry."
Lewis Hamilton, Mercedes-AMG (9th)
"What a crazy race. This has been one of the most difficult races we've had as a team for a long time. I thought I had the race under control, but we took a risk going out on slicks and the race fell apart from there. I went wide at Turn 16 and it was like ice out there, then hit the wall and damaged my wing. I made a mistake and paid the price. I was in the lead and then finished P11 [later promoted to P9 following both Alfa Romeos being pushed out of the points]. I'm not even sure how, but that's very painful and I'm just glad it's over.
ADVERTISEMENT - CONTINUE READING BELOW ↓
"It's hard to perform when you're not at 100%. I need to make sure I'm fit and healthy again in time for the next race. You live and you learn from days like this. It's important now that we regroup for Hungary. I'm happy for Seb, who fought his way back to P2 from the back, and how good to see Daniil and Toro Rosso on the podium, too—good for them."
Robert Kubica, Williams (10th)
"It was a crazy race today and track conditions were very slippery. I managed to bring the car home with no mistakes, which is the most important thing. Although racing in wet and changeable conditions isn't new for me, it's been nine years since I last experienced it in a Formula 1 car and it certainly refreshed my memory."
NOTE: This article first appeared on TopGear.com. Minor edits have been made.