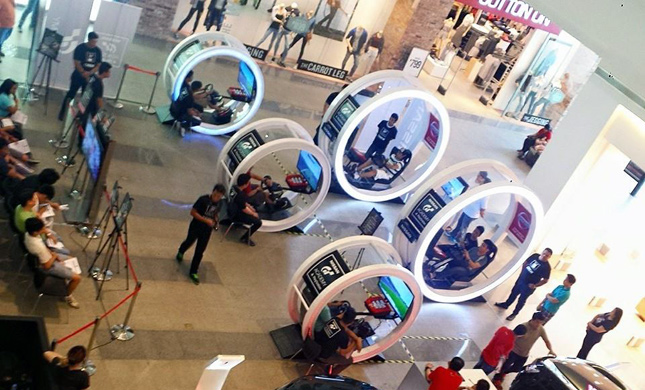 The first three dates for the Nissan GT Academy qualifiers in the Philippines were held last weekend. We already reported the results after two days. Here is the updated list of the top 20 performers (so far) after the third day.
Top 20 performers after 3 days (April 10-12)
1. Terence Lallave (1:03.096)
2. Paolo Vittorio Alcance (1:03.330)
3. Rodolfo Faustino (1:03.353)
4. Daryl Brady (1:03.466)
5. Francisco Adriano IV (1:03.488)
6. Cameron Jordan Padillo (1:03.512)
7. James Andrew Perez (1:03.583)
8. Rabboni John Buenaventura (1:03.718)
9. Julius Norman Ramos (1:04.055)
10. Gav Quintos (1:04.074)
11. Luis Antonio Moreno (1:04.099)
12. Christian Joel Lim (1:04.168)
13. Israel Magante (1:04.197)
14. Joel Erickson Urbi (1:04.197)
15. Auberto Emilio Quiroz (1:04.246)
16. Julian Jaco Reyes (1:04.251)
17. Angelo Guillermo (1:04.316)
18. Patrick Angelo Catanyag (1:04.343)
19. Mervin John Mallen (1:04.550)
20. Audley Tuazon (1:04.557)

The top 20 performers after all the qualifier dates (or live events) will move on to the national finals, during which they will be cut to just six contestants. These top six Filipino players will then proceed to the Nissan GT Academy's race camp in Silverstone in the United Kingdom to compete with other participants from other Asian countries.
The good thing about it is that contestants can keep joining the qualifying rounds to further improve their time. Needless to say, we expect a lot of names from the above list to either be shuffled through the order or knocked off the roster altogether in the coming qualifier dates.
Continue reading below ↓
Recommended Videos
The next qualifiers will be held this weekend, beginning tomorrow (April 17). The dates and the venue are listed here. Good luck!
Photo from Nissan Philippines' Facebook page