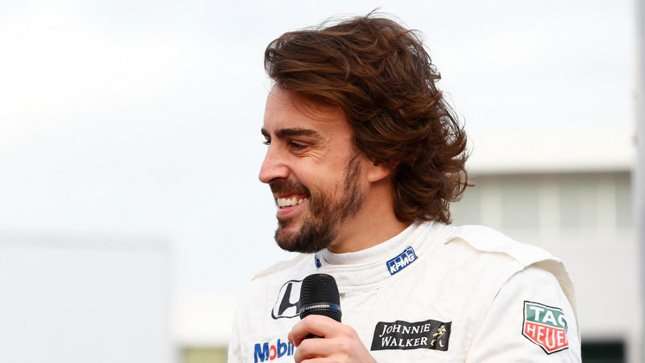 McLaren has today announced its lead driver, Fernando Alonso, will miss the Monaco Grand Prix. He's swerving the most glamorous race on the Formula 1 calendar in order to compete at the Indy 500 in the US. Jenson Button will return to the McLaren F1 team to fill his old teammate's seat in Monte Carlo.
Alonso's move is interesting for two reasons. One, it suggests McLaren will let the Spaniard chase other passions to compensate for the disappointing performance of the cars he's driven since returning to the team in 2015.
Two, it proves he's targeted being only the second ever driver to complete motorsport's Triple Crown. That consists of the Monaco Grand Prix (which Alonso's won twice), the Le Mans 24 Hours and the Indy 500.
Continue reading below ↓
Recommended Videos
Over to Fernando himself. "It's one of my ambitions to win the Triple Crown, which has been achieved by only one driver in the history of motorsport: Graham Hill. It's a tough challenge, but I'm up for it. I don't know when I'm going to race at Le Mans, but one day I intend to. I'm only 35: I've got plenty of time for that."
"I've never raced an IndyCar car before, and neither have I ever driven on a super-speedway, but I'm confident that I'll get to grips with it fast. I've watched a lot of IndyCar action on TV and online, and it's clear that great precision is required to race in close proximity with other cars on the far side of 354kph."
Yikes. The IndyCar he's racing will, like his regular company car, be a Honda-powered McLaren, campaigned by Andretti Autosport. And like his Grand Prix car, it uses a turbocharged V6 engine.
Older readers will note McLaren has form in IndyCar racing. Bruce McLaren's race team claimed two Indy 500 victories in the '70s. Though Bruce himself was an Indy 500 victory short of claiming the Triple Crown as a driver, having won at Le Mans and Monaco.
Just 17 drivers have competed at all three events, with Graham Hill being the first—and thus far only—driver to complete the Triple Crown, when he won Le Mans in 1972. Reckon Alonso's up to joining him on a list of two?
NOTE: This article first appeared on TopGear.com. Minor edits have been made.