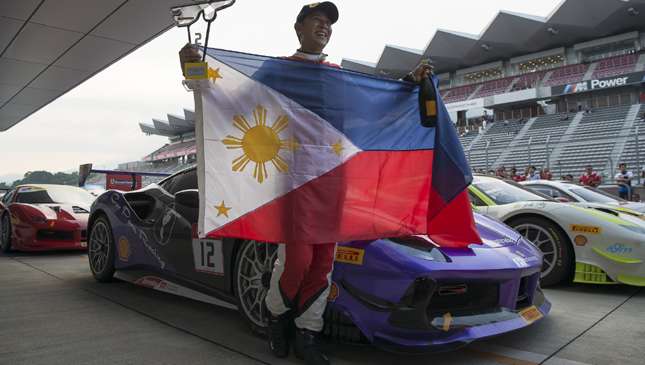 Not bad at all. Angie King, with relatively little professional racing experience, managed to impress in round four of the 2017 Ferrari Challenge Asia Pacific held at Fuji Speedway, Japan.
Angie was admittedly nervous when she took to the track in her purple Ferrari 488 Challenge—one of a record 23 participants taking part in the event. "Coming into the series as an amateur with little experience with professional racing, I was very nervous especially since I didn't know the track or the car," King says. "I had several challenges during the practice runs, and I wasn't very confident about how I will do during race day."
Continue reading below ↓
Recommended Videos
Despite her uncertainty, Angie managed to begin the race on a high note, pushing halfway through the pack to start the race. Unfortunately, she ran into a little trouble when she spun out past lap 12. "I spun out on the chicane. I lost my position and got confused on where I stood amongst my competitors."
Still, King pushed on through, caught up, and eventually bagged second place on the podium. "To say that I was ecstatic is an understatement. I was in shock that I was able to garner a podium finish on my first race, gaining respect from my crew and the other drivers that day," she says.
Angie was racing in the Trofeo Pirelli AM category and finished 11 seconds behind first-placer Tiger Wu from Taiwan.
Local Ferrari distributor Autostrada Motore president Wellington Soong couldn't be happier with Angie's performance during the race, saying it was an honor to have her represent the country in such a prestigious event. "Her podium finish just solidifies the talent of Filipinos in the world of racing, powered by one of the world's strongest car brands," he added.
Angie King will take to the track again in Sepang this month, and in Mugello, Italy in October. The last Filipino contender to take part in the Ferrari Challenge was Vicente Floirendo in 2015, who managed a handful of podium finishes. Here's to hoping Angie finds similar success throughout the rest of the season.