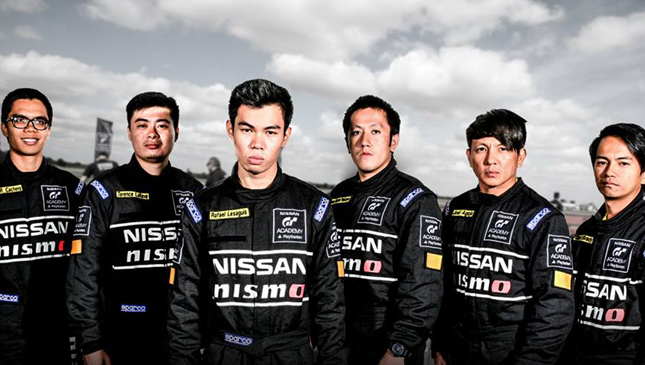 "You've been chosen...you are the Nissan GT Academy champion!"
With these words, the doors to competing in international motorsports were opened for Joward Policarpio, as he became the first-ever Nissan GT Academy Asia winner last year.
Besting over 15,000 participants across 25 pod-racing events in Luzon, Visayas and Mindanao, Joward--along with other Filipino finalists Rafael Lesaguis, Luis Cachero, Joel Agojo, Terence Lallave and Daryl Brady--was flown by Nissan Philippines to the GT Academy Race Camp at the prestigious Silverstone Circuit in the United Kingdom. There, they competed against other finalists from Japan, India, Thailand and Indonesia.
After a series of physical and racing challenges driving various vehicles from kit cars to Formula 3000 single-seaters, off-road buggies, stock cars, 370Zs and even GT-Rs, Joward emerged on top to claim the GT Academy Asia top prize--a training stint in the Nissan Driver Development Program.
"Today, more than ever, anyone can dream to become a real race car driver," said former NPI president Toti Zara during the exclusive screening of the full Nissan GT Academy TV series. Joward, who barely qualified in the top 20 drivers during the virtual gaming eliminations, showed that it is indeed possible to take the competition from the virtual realm to reality.
With Nissan GT Academy Philippines generating well over 52 million views on Facebook and over P100 million worth of PR value for the Nissan brand in 2015, NPI is keen on once again participating in the global event. New NPI president Ramesh Narasimhan, who was introduced to the press during the screening, expressed his commitment to the program for 2016.
ADVERTISEMENT - CONTINUE READING BELOW ↓
"One of the most successful programs that Toti has brought to life is the Nissan GT Academy Asia," shared Narasimhan. "I'm very pleased to confirm the Philippines' participation in the GT Academy, which will happen later this year."
With that announcement, it's now time for Pinoy Gran Turismo aces and racing fanatics to prepare for the second edition of Nissan GT Academy Philippines. This year, however, a more stringent set of physical and medical tests will screen the finalists because of a medical condition eventually diagnosed in last year's winner Joward, which was discovered to be a hindrance to the progression of his international racing career.
Despite this setback, Policarpio remains upbeat in finding the appropriate next step after his initial Nissan GT Academy experience. "Train yourself physically," he reminded aspiring participants. "Keep yourself mentally fit as well, and become a better driver."
Guys, you have ample time to prepare before the official kick-off of this year's Nissan GT Academy. Go for it.
Photo from Nissan Philippines
ADVERTISEMENT - CONTINUE READING BELOW ↓
Recommended Videos