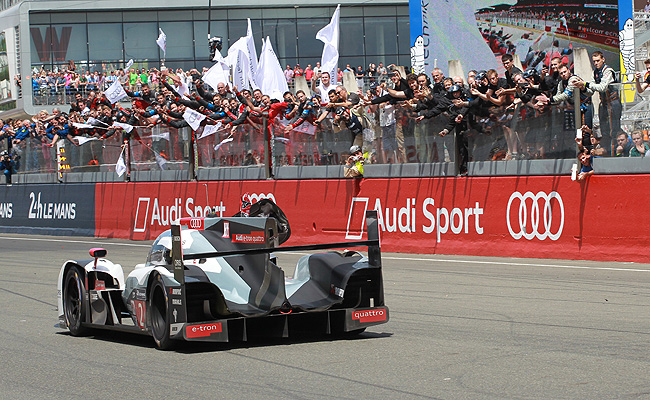 After starting the race in sixth place, the #2 Audi R18 e-Tron Quattro won the 2014 24 Hours of Le Mans, giving the German carmaker its fifth straight title and 13th overall in the past 15 years.
The #7 and #8 Toyota TS040 Hybrids dominated the early hours of the race, even after the #8 car driven by Nicolas Lapierre crashed at the first Mulsanne chicane (he was able to limp the car back into the pit for repairs). The accident claimed Audi's #3 car driven by Marco Bonanomi.
As the #7 Toyota driven by Kazuki Nakajima held onto the lead on the ninth hour, an issue with its wiring assembly forced the car to retire, finally giving the Audi the lead with its #2 car followed by the #20 Porsche 919 Hybrid in second place and the #1 Audi down by three laps in third.
Problems with their turbochargers plagued both the #1 and #2 Audi cars, finally giving the #20 Porsche a taste of the lead near the 20th hour of the race. By the 22nd hour, however, both the #20 and #14 Porsches retired with mechanical problems, again giving the #2 Audi the lead which it never relinquished all the way to the checkered flag.
Continue reading below ↓
Recommended Videos
The #2 Audi's win gave the trio of Marcel Fassler, Benoit Treluyer and Andre Lotterer their third Le Mans victory in four years.
"This was no doubt one of the most thrilling and action-packed races at Le Mans," said Audi Motorsport boss Wolfgang Ullrich. "For us, it was also one of the most difficult ones, and that's why, in my personal ranking of emotions, it takes one of the top spots. In the first two-thirds of the race it was our rivals, and in the final third we worked our way toward the front. This can only be achieved with a very special team performance. The combination of an efficient concept and a team of strong drivers--who extract the best from it--was the key to success."