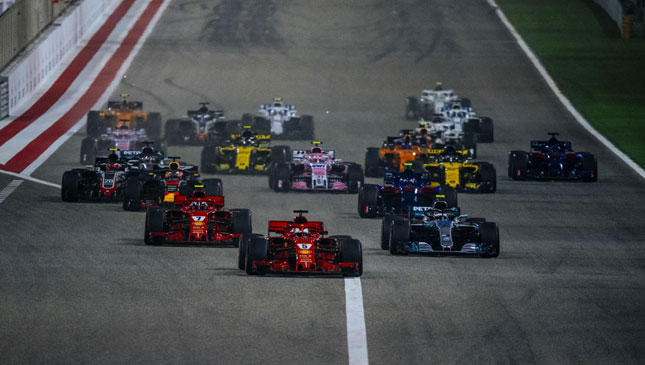 Sebastian Vettel won the 2018 Bahrain Grand Prix. And if you'd only read that headline, you might have sighed, and then clicked over to watch dogs doing silly things on the Internet.
But Formula 1's second race of the season provided much, much more. Actual, genuine excitement. Comparatively speaking, of course. Because Vettel's win was not completely under his control, something he later admitted.
The battle of the strategies between Ferrari and Mercedes was fascinating to watch, if only because it meant unpredictability later on as the race progressed. Indeed, Valtteri Bottas pressuring Vettel in the final stages was nail-biting to watch. He finished second, after Seb.
Continue reading below ↓
Recommended Videos
Lewis Hamilton—starting from ninth on the grid—made an exceptional move to overtake three cars after a 'virtual safety car' restart, whipping past Fernando Alonso and then diving into turn one ahead of Esteban Ocon and Nico Hulkenberg. By lap eight, Hamilton was up to fourth.
He finished third, but was lucky to come away unscathed from a coming-together with Red Bull's Max Verstappen—deemed a racing incident—that unfortunately ended Verstappen's race. Daniel Ricciardo's race ended early too, Red Bull's woes compounded as his car came to a halt and he was forced to retire.
And let's not forget Pierre Gasly; the Toro Rosso driver (now powered by a Honda engine, don't forget) finished an incredible fourth behind Hamilton. To see the reaction of the team, you'd have thought they'd won every championship ever. Well played.
Thoughts of course, go out to Ferrari mechanic Francesco Cigorini, who unfortunately suffered a broken leg when Raikkonen ran over it during a pit stop. He was later taken to hospital, with a fracture of the tibia and fibula. It also meant Raikkonen was retired from the race.
What were your particular highlights? And—dare we say it—does it look like we have an exciting year of F1 ahead of us?
NOTE: This article first appeared on TopGear.com. Minor edits have been made.