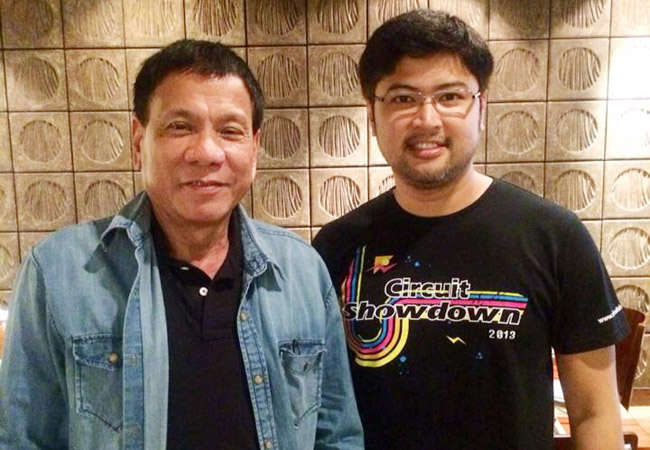 The latest news out of Davao City is that its lionhearted mayor, Rodrigo Duterte, has offered to give a reward of P1 million to anyone who can help find the killers of race car driver Enzo Pastor. This was reported today by NewsDesk, which describes itself as "an independent initiative of freelance journalists in Mindanao."
Popular for his participation in international motorsport events and for organizing the grassroots Circuit Showdown series, Pastor was shot dead in Quezon City late evening of June 12 this year. He was driving a truck to transport an Asian V8 Championship car to Clark International Speedway when the shooting took place.
"His tragic death was a loss not only to his family and children, but to the country as well," Duterte was quoted as saying. "I want to make sure that the perpetrators of this crime are found and brought to justice. We should all be very proud of the motorsport achievements Enzo brought to the country."
Now, you can't accuse everyone's favorite mayor of grandstanding, because if he were merely doing so, he would have done this right in the middle of Enzo's funeral, when the incident was still the hottest topic in town. You could sense Duterte is genuinely being a, first, friend to the Pastor family and, second, a public official who is just sick and tired of all the senseless killings happening around us.
How to go about this? Mayor Duterte said in the video below that anyone who has concrete information on the case just has to contact him (via text message, for instance), and the mayor will go secretly to the location of the informer to personally hand over the reward. But then we're thinking, how to get hold of the mayor's mobile phone number? NewsDesk provided a number, 0917 476-8549, but we're not sure if this belongs to Mayor Duterte himself.
Anyway, Mayor Duterte has spoken. You might be up for the challenge.
Photo from Enzo Pastor's Facebook page
If you're viewing this on a mobile device and can't see the video, please click here.