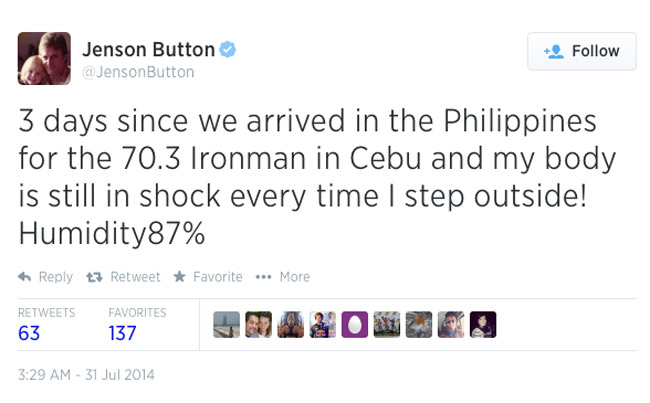 Two years after Formula 1 champion Jenson Button visited the Philippines for the Ironman 70.3 triathlon event, he's back in Cebu for the same purpose. Earlier today, he tweeted: "Three days since we arrived in the Philippines for the 70.3 Ironman in Cebu and my body is still in shock every time I step outside! Humidity 87%."
And then he proceeded to tweet two amusing motoring photos--one showing a motorcycle rider with a passenger carrying a big box, and another showing a tricycle transporting a farm animal.
Of the first photo, he said: "You get to see a lot of unusual things in Cebu. Check this crazy fella out!"
And of the second photo, he quipped: "Or this! Who's driving?!"
Now, before anyone thinks that the McLaren driver is poking demeaning fun at the Filipino guys in the photos, let us say here that he is merely enjoying himself in the country. He truly loves it here. He wouldn't have come back if he didn't. So, if you're a Formula 1 or Jenson Button fan, know that you can watch him run, bike and swim on the day (August 3, Sunday) of the Ironman 70.3 event. But you will have to travel to Cebu.
Continue reading below ↓
Recommended Videos
Good luck!
Photos from Jenson Button's Twitter account