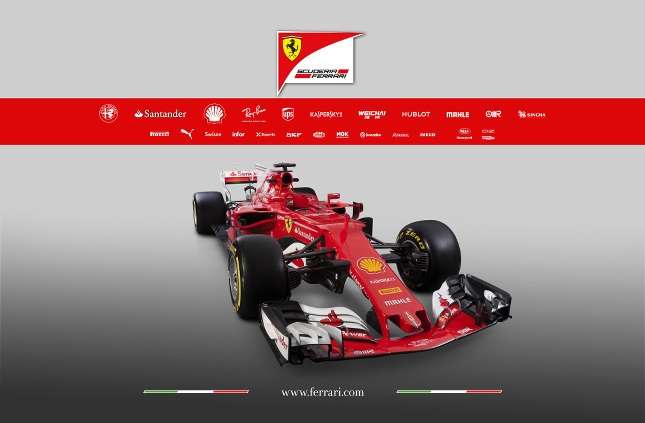 After taking no race wins in 2016 and then losing a key team member to Mercedes, Ferrari is aiming to bounce back in the coming season with the SF70H, the 63rd model it has built for Formula 1 competition. The car was immediately given a shakedown on the Italian carmaker's Fiorano test track as part of the filming-day activities with drivers Sebastian Vettel and Kimi Raikkonen.
The design of the launch-spec Ferrari looks a good deal busier than that of its Mercedes counterpart, but again, teams have the opportunity to make changes ahead of and throughout the course of the 2017 season. While this year's SF70H has a similar thumb-tip nose as the preceding SF16-H, the leading edge of the front wing is more arrow-shaped. At the back, a thin wing sits on the edge of the shark fin just ahead of the rear wing.
Continue reading below ↓
Recommended Videos
The sidepods boast more horizontal air intakes behind complex aero appendages. Also heavily redesigned are the roll-hoop and the engine airbox behind the driver. The hubs and the wheel nuts, too, have been improved "to facilitate the work of the mechanics when changing wheels during the pit stops." Now, if the team could only improve their pit strategies as well...
Compared with Renault and Mercedes, Ferrari is not disclosing much about the changes or upgrades it has done in the power-unit front. It only states that "the layout of some of the mechanical components on the hybrid power unit has been revised, while other areas maintain a similar layout to the 2016 car." The revised regulations allow for more freedom in developing the power unit during the season.
Do note, however, that in-season development was a glaring weakness of Ferrari last year. It's something that new chief technical officer Mattia Binotto, who has taken over from James Allison (now a Mercedes man), will have to push for if Ferrari is to challenge once again for race wins, let alone the championship.