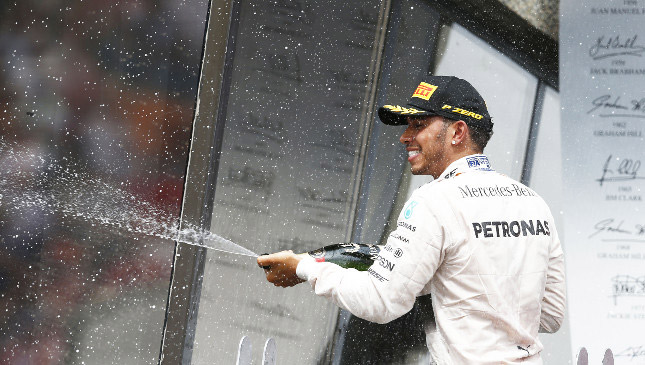 Dozed off while watching the live race telecast from Montreal? We envy you. The Canadian Grand Prix was a torture to follow for anyone trying to stay awake at three-ish on a Monday morning.
Too bad--it seemed promising at first. The displaced Williams of Felipe Massa (P15) and Ferrari of Sebastian Vettel (P18) ensured there would be movement from the back of the grid. There was also the prospect of a safety car, which tends to be a feature of this particular venue.
Lewis Hamilton, however, must have prayed long and hard against the appearance of the Mercedes-AMG GT S, because not even Pastor Maldonado managed to trigger its deployment. In fact, the Lotus driver scored his first points of the season with a measured drive to seventh place. But let's backtrack from the checkered flag first.
At the start, the top 10 stayed put except for Maldonado and Nico Hulkenberg, who swapped places to run P6 and P7, respectively. Massa was up to P12 on Lap 5, closely tailed by Vettel; hindering the pair's progress was Marcus Ericsson, who did a good job resisting the Merc-powered Williams with his Ferrari-powered Sauber. On Lap 7, Ferrari pitted Vettel to get him out of traffic, but a problematic tire change from supersofts to softs dropped him to the back of the pack.
Massa pulled off the overtake of the race on Lap 9 to leapfrog Ericsson, then passed 2014 winner Daniel Ricciardo on Lap 14 to get into the top 10. Around 10 laps later, he and Vettel were P7 and P10, respectively, the car issues that had plagued their qualifying runs appearing to hold off. Race leader Hamilton, meanwhile, had a cushion of over four seconds to Nico Rosberg.
ADVERTISEMENT - CONTINUE READING BELOW ↓
Kimi Raikkonen, running P3 and 11 seconds off the front, was first of the pacesetters to pit at the end of Lap 26--and then he proceeded to spin at the hairpin due to "a massive throttle release" that was "exactly the same as last year." Williams pitted Valtteri Bottas to capitalize on Raikkonen's misfortune, and the younger Finn did emerge from his stop ahead of his compatriot.
Hamilton made his only stop at the end of Lap 29; Rosberg, also on a one-stopper, came in a lap later. Vettel changed to another set of soft tires at the halfway point of the race, and moved ahead of Massa when the Brazilian pitted at the end of Lap 37. Like his teammate, Raikkonen was on a two-stop strategy, but for his final stint he got supersoft tires, with which he set the 42nd fastest race lap of his career. This puts him second on the all-time list behind Michael Schumacher, who has 77.
After just over an hour and a half of racing, Hamilton took the checkered flag, with Rosberg and Bottas completing the podium. Behind them were Raikkonen, Vettel, Massa and Maldonado. Hulkenberg survived a near-tangle with Vettel on Lap 44 to finish P8, followed by Daniil Kvyat. Romain Grosjean, despite earlier making contact with a Marussia he was lapping, came home 10th to give Lotus a double points finish. McLaren suffered a double retirement, and no Toro Rosso or Sauber scored points.
Clippings from the Canadian Grand Prix
* Fastest lap: K. Raikkonen, 1:16.897 (Lap 42)
* Team radio talk: Fernando Alonso's response when told he had to save fuel: "I don't want! I don't want!" His engineer reasoned he would hit trouble later on if he kept his foot on the throttle, but the Spaniard indignantly said, "Already I have big problems now. Driving with this, looking like an amateur. So I race, and then I concentrate on fuel."
* Special mention: Pastor Maldonado finally scored his first points for 2015 with a seventh-place finish on the seventh race of the season.
* Celebrity moment: Spotted: Michael Douglas, Al Pacino and Michael Fassbender with some fellow X-Men cast members. But this dude was the scene stealer:
It's Groundhog Day in Montreal... #CanadianGP #BonjourF1 pic.twitter.com/z1eTzCdPkN

— Formula 1 (@F1) June 7, 2015
* Top tweet: Journalist Peter Windsor caught this image post-race at McLaren:
Bemused drivers digest the results in the McLaren Honda office after the race pic.twitter.com/jrnk3NZvMp

— Peter Windsor (@PeterDWindsor) June 7, 2015
* Pirelli tire stats: The majority of drivers had a one-stop race:
#F1 Teams took full advantage of the unique #CanadianGP circuit in their tyre strategies. Here's what each one used. pic.twitter.com/Si8N8fSc6Z

— Pirelli Motorsport (@pirellisport) June 7, 2015
* Quote of the race: Order is restored at Mercedes--for the moment, at least. "We needed this result today, after all the discussion and criticism following Monaco, and it was good to do it with a faultless performance," said Mercedes-Benz head of motorsport Toto Wolff. "I'd also like to highlight two great stops from our boys today in the pit lane--both of them clean and quick and efficient. Congratulations to Lewis for his win, but also to Nico for such a strong drive; there were only fine margins between them in qualifying and in the race, and that rivalry pushes the whole team forward."
Photos from Mercedes AMG Petronas and Williams Martini Racing
Canadian Grand Prix race results
Finishing position
Driver
Starting position
Time/Gap
1
L. Hamilton (Mercedes)
1
1hr 31:53.145
2
N. Rosberg (Mercedes)
2
+2.285
3
V. Bottas (Williams)
4
+40.666
4
K. Raikkonen (Ferrari)
3
+45.625
5
S. Vettel (Ferrari)*
18
+49.903
6
F. Massa (Williams)
15
+56.381
7
P. Maldonado (Lotus)
6
+1:06.664
8
N. Hulkenberg (Force India)
7
+1 lap
9
D. Kvyat (Red Bull)
8
+1 lap
10
R. Grosjean (Lotus)
5
+1 lap
11
S. Perez (Force India)
10
+1 lap
12
C. Sainz (Toro Rosso)
11
+1 lap
13
D. Ricciardo (Red Bull)
9
+1 lap
14
M. Ericsson (Sauber)
12
+1 lap
15
M. Verstappen (Toro Rosso)*
19
+1 lap
16
F. Nasr (Sauber)
14
+2 laps
17
W. Stevens (Marussia)
17
+4 laps
DNF
R. Merhi (Marussia)
16
DNF
J. Button (McLaren)*
20
DNF
F. Alonso (McLaren)
13
*M. Verstappen qualified P12, but was given a five-place grid penalty for causing a collision in the previous event, plus a 10-place grid penalty for using a fifth power-unit element (internal-combustion engine) for the first time. S. Vettel qualified P16, but was given a five-place grid penalty for overtaking under red-flag conditions during Free Practice 3. J. Button did not participate in qualifying, and was given a 15-place grid penalty for using fifth power-unit elements (MGU-H and turbocharger) for the first time.
ADVERTISEMENT - CONTINUE READING BELOW ↓
CAN
Driver standings
Team standings
Pos
Driver
Points
Team
Points
1
L. Hamilton
151
Mercedes
285
2
N. Rosberg
134
Ferrari
180
3
S. Vettel
108
Williams
104
4
K. Raikkonen
72
Red Bull
54
5
V. Bottas
57
Lotus
23
6
F. Massa
47
Sauber
21
7
D. Ricciardo
35
Force India
21
8
D. Kvyat
19
Toro Rosso
15
9
R. Grosjean
17
McLaren
4
10
F. Nasr
16
Marussia
0
11
S. Perez
11
12
N. Hulkenberg
10
13
C. Sainz
9
14
M. Verstappen
6
15
P. Maldonado
6
16
M. Ericsson
5
17
J. Button
4
18
F. Alonso
0
19
R. Merhi
0
20
W. Stevens
0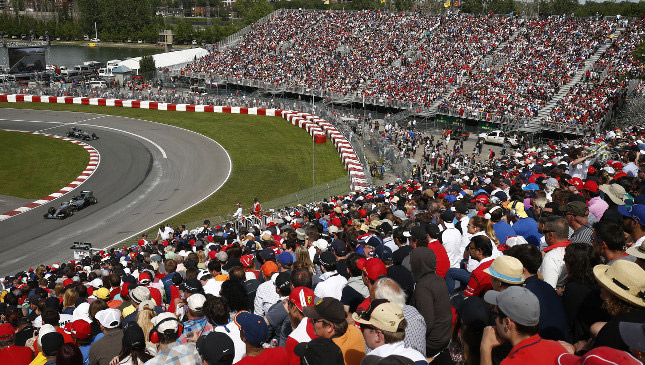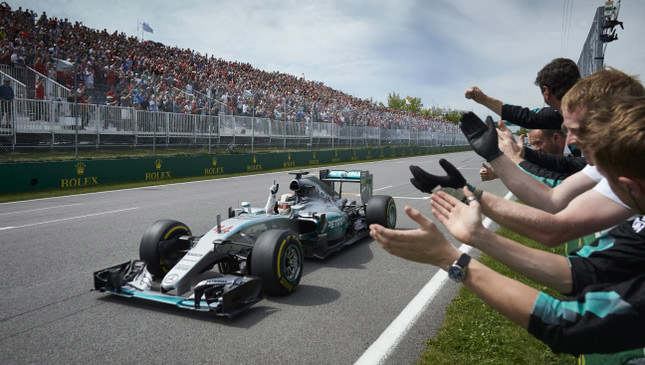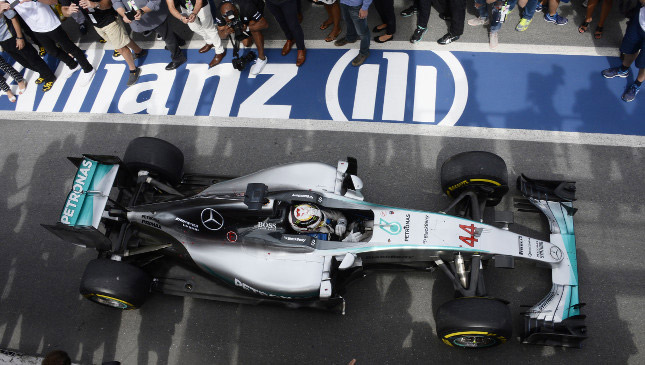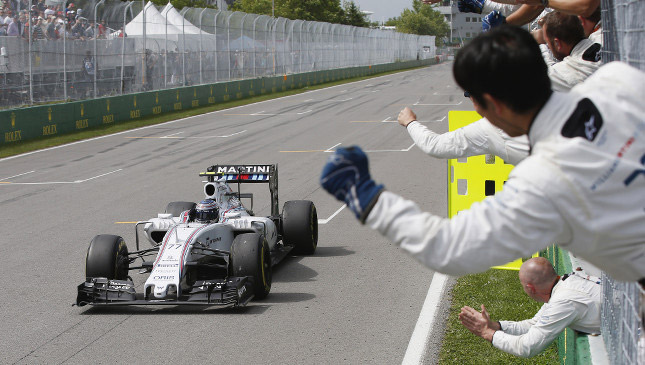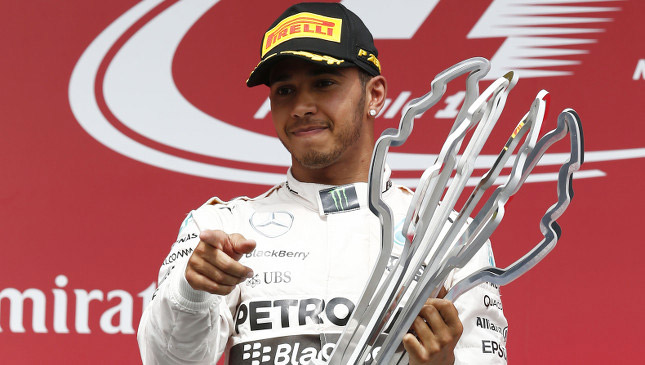 ADVERTISEMENT - CONTINUE READING BELOW ↓