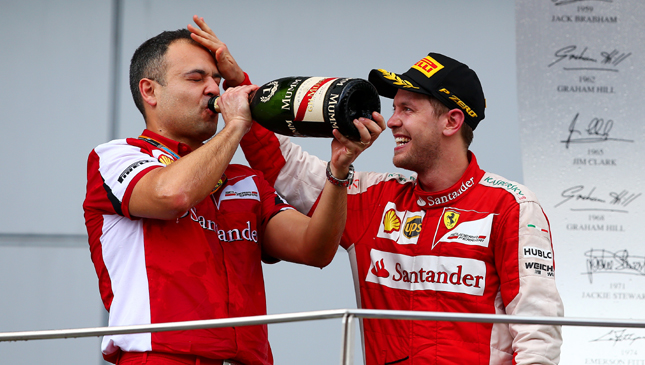 We attended this year's Malaysian Grand Prix courtesy of Shell Philippines. And because Shell is the technical partner of Scuderia Ferrari, we got to know how a race weekend for the guys in red goes--from marketing events to the intricate things during the buildup to the grand prix.
In the previous race in Australia, Mercedes-AMG remained the favorite, while Ferrari gained a huge improvement with its power unit, surprising the boys at Williams.
In Malaysia, it was difficult to see beyond another Silver Arrows 1-2 finish, but it was the kind of race we hadn't seen in quite a while, where a team outwits the other by virtue of a crucial call. Both Sebastian Vettel and Ferrari collected their first win since 2013, not based on speed but on a clever pit stop strategy. The German driver also had the quickest pit stop of 2.4 seconds, ultimately a factor for the win.
Things slipped away from Mercedes on the fourth lap when the safety car was deployed after Marcus Ericsson spun his Sauber at Turn 1. Both Lewis Hamilton and Nico Rosberg hurriedly pitted for the harder tire compound, with Rosberg queuing for a brief moment for his turn. It was an immediate reaction to the situation while Ferrari decided to let Vettel carry on. The move crucially meant a three-stop strategy for the Merc duo, with Vettel sticking to two and staying on top of any degradation issues.
Continue reading below ↓
Recommended Videos
It was another what-would-have-been race for Kimi Raikkonen, after a collision with the Sauber of Felipe Nasr resulted in a left-rear puncture on the first lap, dropping him to 12th. It was a great recovery drive by the Finn, however, finishing a strong fourth.
Seventeen seconds behind him was an intense duel between Williams teammates Felipe Massa and Valtteri Bottas, with the Finn sticking a move on his more experienced Brazilian teammate with just one lap to go.
Max Verstappen was the best of the bulls, leading his STR ahead of teammate Carlos Sainz Jr. The STRs finished ahead of the senior Red Rull Racing team, with Daniil Kvyat and Daniel Ricciardo in 9th and 10th, respectively.
The McLaren-Hondas of Fernando Alonso and Jenson Button, meanwhile, retired due to mechanical problems, an ERS cooling issue and a problem with the turbo, respectively. But their pace was "surprisingly good," Alonso said, with the Spaniard reaching as high as eighth battling the Force Indias after drivers up the order pitted while the safety car was out. The McLarens started on the hard tires. It's clearly a development stage for the Honda power unit, with the intension of improving a step further race by race.
Speaking of Force India, they didn't have the smoothest race, with Nico Hulkenberg colliding with Kvyat, and Perez spinning Lotus's Romain Grosjean. Both drivers were given a 10-second penalty for their incidents. Pastor Maldonado had his share of problems, running at the back of the pack before retiring. Despite showing strong pace, Lotus has yet to score points.
Clippings from the Malaysian Grand Prix
* Fastest lap: Nico Rosberg, 1:42.062 (Lap 43)
* Youngest awesome driver: Toro Rosso's Max Verstappen, who, at 17 years of age, is now the sport's youngest driver to score world championship points. He had a strong showing at the season-opener in Australia as well, before a retirement robbed him of any chance to score points.
* And that's that: "Talk to me about the race against Vettel," Rosberg told his engineer, Tony Ross.
"Both of you have one more stop to make, Nico," the engineer replied. "He is on newer tires; he will push to try and close the gap."
"Say it to me simpler," Rosberg demanded. "So if he goes by me, he has won? He has beat me then?"
"Affirm, affirm," Ross responded.
* Celebrity moment: The driver interview wasn't as high-profile as the Australian Grand Prix with Arnold Schwarzenegger, but if it's someone who can get the crowd going and ask the right questions, it's Formula 1 pundit and former team owner Eddie Jordan. He's flamboyant and we love how the guy hosts.
* Quote on the podium: "Game on, Ferrari!" Rosberg exclaimed after Ferrari outsmarted Mercedes.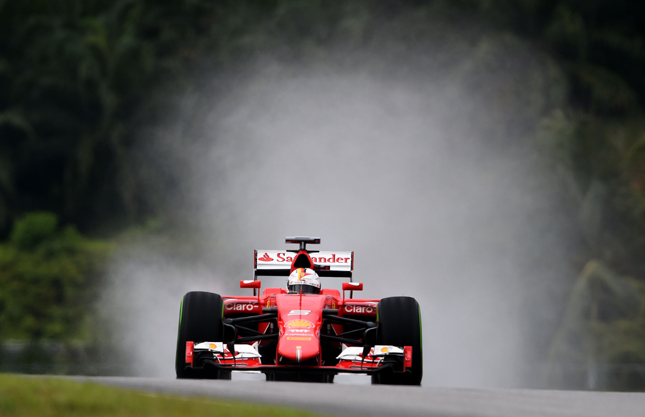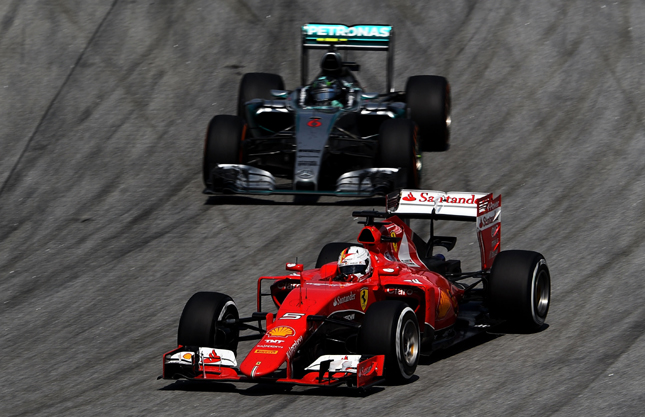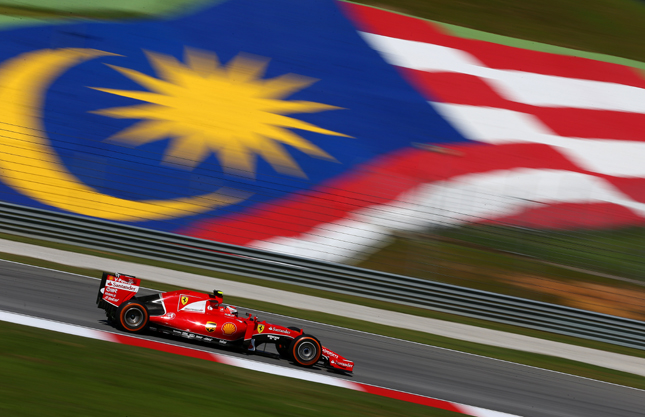 Malaysian Grand Prix race results
Finishing position
Driver
Starting position
Time/Gap
1
S. Vettel (Ferrari)
2
1hr 41:05.793
2
L. Hamilton (Mercedes)
1
8.569
3
N. Rosberg (Mercedes)
3
12.31
4
K. Raikkonen (Ferrari)
11
53.822
5
V. Bottas (Williams)
8
+1:10.409
6
F. Massa (Williams)
7
+1:13.586
7
M. Verstappen (Toro Rosso)
6
+1:37.762
8
C. Sainz (Toro Rosso)
15
+1 lap
9
D. Kvyat (Red Bull)
5
+1 lap
10
D. Ricciardo (Red Bull)
4
+1 lap
11
R. Grosjean (Lotus)
10
+1 lap
12
F. Nasr (Sauber)
16
+1 lap
13
S. Perez (Force India)
14
+1 lap
14
N. Hulkenberg (Force India)
13
+1 lap
15
R. Merhi (Marussia)
19
+3 laps
16
P. Maldonado (Lotus)
12
DNF
17
J. Button (McLaren)
17
DNF
18
F. Alonso (McLaren)
18
DNF
19
M. Ericsson (Sauber)
9
DNF
20
W. Stevens (Marussia)
(20)
DNS
MAL
Driver standings
Team standings
Pos
Driver
Points
Team
Points
1
L. Hamilton
43
Mercedes
70
2
S. Vettel
40
Ferrari
52
3
N. Rosberg
33
Williams
30
4
F. Massa
20
Sauber
14
5
K. Raikkonen
12
Toro Rosso
12
6
F. Nasr
10
Red Bull
11
7
V. Bottas
10
Force India
7
8
D. Ricciardo
9
McLaren
0
9
N. Hulkenberg
6
Lotus
0
10
M. Verstappen
6
Marussia
0
11
C. Sainz
6
12
M. Ericsson
4
13
D. Kvyat
2
14
S. Perez
1
15
J. Button
0
16
R. Grosjean
0
17
R. Merhi
0
18
P. Maldonado
0
19
F. Alonso
0
20
K. Magnussen
0
21
W. Stevens
0