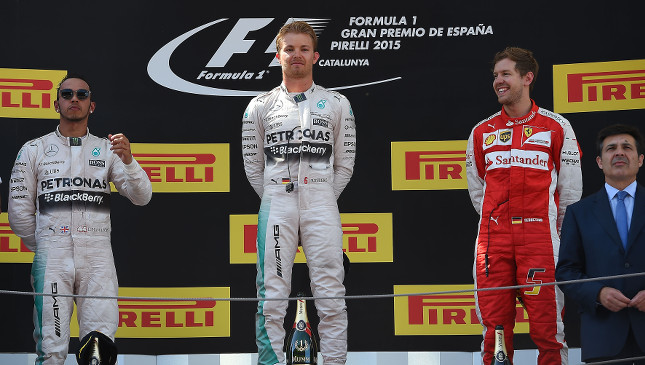 The Spanish Grand Prix may have been lackluster compared to the previous round in Bahrain, but there's hope for this season yet: The spunky Nico Rosberg of 2014 has reentered the title fight by converting his pole position to a race win. With his win at Circuit de Catalunya, he now trails championship leader Lewis Hamilton by a manageable 20 points.
The German got off the line cleanly and had moved out of DRS range by the time the overtaking aid was enabled. Behind, Sebastian Vettel took P2 from a slow-starting Hamilton, and Kimi Raikkonen in the other Ferrari leapfrogged the Toro Rosso rookies, who had enjoyed a great qualifying session on Saturday. Pastor Maldonado was charging at this point, too, getting up to P7 by Lap 10 despite a broken rear wing from contact with teammate Romain Grosjean.
Come the first round of pit stops, Mercedes blinked first, bringing in Hamilton at the end of Lap 13 for option tires when he couldn't get past Vettel on the track. His slow stop prompted Ferrari to pit Vettel a lap later; Vettel maintained position upon exiting. Hamilton pitted again at the end of Lap 32, indicating he was on a three-stop strategy. Ferrari did not respond, and after a strong stint from the reigning world champion, he emerged from his third and final stop well ahead of the two-stopping Vettel.
ADVERTISEMENT - CONTINUE READING BELOW ↓
Raikkonen was on a two-stop strategy as well, but he opted to take the harder prime tires at the end of Lap 17--a counter-strategy to Vettel and Valtteri Bottas, who put on option tires for the second stint. This meant that after their second and final stops, Raikkonen was on the faster option tires, while the two drivers ahead were on the primes. "Iceman chases down Iceboy!" Sky Sports F1 commentator Martin Brundle quipped as Raikkonen tried to overtake his compatriot, who is rumored to be in contention for his Ferrari seat in 2016. As in Bahrain, Bottas resisted the red car to keep P4.
Home hero Fernando Alonso had been running in the top 10 until a brake failure--which nearly caused his car to hit McLaren's front jackman in the pits--led him to retire. Toro Rosso's Carlos Sainz Jr. gave the Spaniards something to be happy about by stealing P9 from Red Bull's Daniil Kvyat on the final lap.
ADVERTISEMENT - CONTINUE READING BELOW ↓
Recommended Videos
Ahead of them, from P6 to P8, were Felipe Massa of Williams, Daniel Ricciardo of Red Bull, and Romain Grosjean of Lotus. The only other non-finisher was Maldonado, who has had four retirements in five races.
Clippings from the Spanish Grand Prix
* Fastest lap: L. Hamilton, 1:28.270 (Lap 54)
* Team radio talk: Lots of impossibilities in Hamilton's transmissions. "I can assure you that's pretty much impossible...find another solution," he said when told he would have to overtake Sebastian Vettel for P2. Later on, as he was chasing down race leader Nico Rosberg during the home stretch, he had this exchange with his race engineer:
LH: "If you're saying it's not possible, let me know."
Engineer: "Yeah, I don't think it would be possible with the remaining laps. We'd be better off just looking after this one. Let him have it."
LH: "Is it impossible is what I'm asking?"
ADVERTISEMENT - CONTINUE READING BELOW ↓
Engineer: "Yes, he is going to respond if we pick the pace up. It would be impossible."
* Rookie on the run: Keeping his P5 starting position was a big ask for local boy Carlos Sainz Jr., and he did drop down the order at the start. Late moves on Max Verstappen and Daniil Kvyat brought him up to P9. He kept his points-scoring position when the stewards deemed that his off-track excursion while overtaking Kvyat did not give him an advantage.
* Lucky escape: When Fernando Alonso pitted with failing brakes, his McLaren overshot the box and nearly plowed into the front jackman, who just managed to jump out of the way. The jack itself wasn't so lucky.
* Celebrity moment: Lotus's front jackman was an unexpected scene-stealer after Romain Grosjean sailed into him coming into the pit box. The brave man got an icepack for his abdomen, plus multiple appearances on the TV feed and on social media, for his troubles: twitter.com/loose_wheel_nut/status/597391308693581824.
ADVERTISEMENT - CONTINUE READING BELOW ↓
* Top tweets: Nigel Mansell provided a race-long commentary that was a mix of on-track happenings and insights on tire-management strategies then and now:
Tire management was everything in my time racing even more so because it was totally in drivers hands, our right foot controlled the wear.

— Nigel Mansell CBE (@nigelmansell) May 10, 2015
* Pirelli tire stats: Most drivers went for the two-stop strategy Pirelli had predicted:
@nico_rosberg followed the winning #F1 pattern we predicted for the #SpanishGP just pitting ahead of our strategy. pic.twitter.com/7GLz0bWC6z

— Pirelli Motorsport (@pirellisport) May 10, 2015
* Quote of the race: Jenson Button had this to say about driving the MP4-30 - "The first 30-odd laps were the scariest 30 laps of my life. The rear just wasn't there. Any time I touched the throttle at any speed, the rear was gone. It just wasn't normal. The rear felt like it wasn't connected to the front. It felt like every gust of wind had a massive snap. It was pretty horrific for the first half of the race. Switch changes and new tires at the end helped a bit." Yikes.
Spanish Grand Prix race results
Finishing
position
Driver
Starting position
Time/Gap
1
N. Rosberg (Mercedes)
1
1hr 41:12.555
2
L. Hamilton (Mercedes)
2
+17.551
3
S. Vettel (Ferrari)
3
+45.342
4
V. Bottas (Williams)
4
+59.217
5
K. Raikkonen (Ferrari)
7
+1:00.002
6
F. Massa (Williams)
9
+1:21.314
7
D. Ricciardo (Red Bull)
10
+1 lap
8
R. Grosjean (Lotus)
11
+1 lap
9
C. Sainz (Toro Rosso)
5
+1 lap
10
D. Kvyat (Red Bull)
8
+1 lap
11
M. Verstappen (Toro Rosso)
6
+1 lap
12
F. Nasr (Sauber)
15
+1 lap
13
S. Perez (Force India)
18
+1 lap
14
M. Ericsson (Sauber)
16
+1 lap
15
N. Hulkenberg (Force India)
17
+1 lap
16
J. Button (McLaren)
14
+1 lap
17
W. Stevens (Manor Marussia)
19
+3 laps
18
R. Merhi (Manor Marussia)
20
+4 laps
DNF
P. Maldonado (Lotus)
12
DNF
F. Alonso (McLaren)
13
ESP
Driver standings
Team standings
Pos
Driver
Points
Team
Points
1
L. Hamilton
111
Mercedes
202
2
N. Rosberg
91
Ferrari
132
3
S. Vettel
80
Williams
81
4
K. Raikkonen
52
Red Bull
30
5
V. Bottas
42
Sauber
19
6
F. Massa
39
Lotus
16
7
D. Ricciardo
25
Toro Rosso
14
8
R. Grosjean
16
Force India
11
9
F. Nasr
14
McLaren
0
10
C. Sainz
8
Manor Marussia
0
11
M. Verstappen
6
12
N. Hulkenberg
6
13
S. Perez
5
14
M. Ericsson
5
15
D. Kvyat
5
16
F. Alonso
0
17
J. Button
0
18
R. Merhi
0
19
W. Stevens
0
20
P. Maldonado
0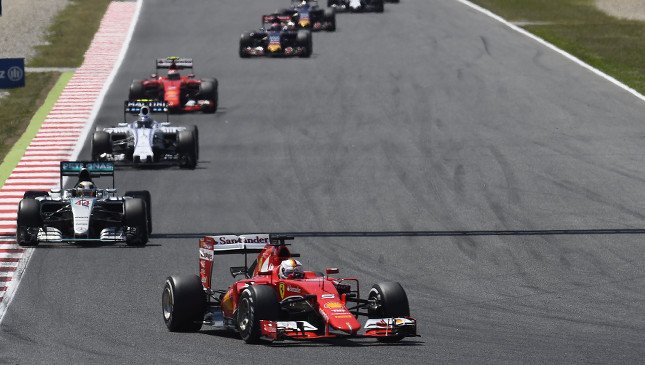 ADVERTISEMENT - CONTINUE READING BELOW ↓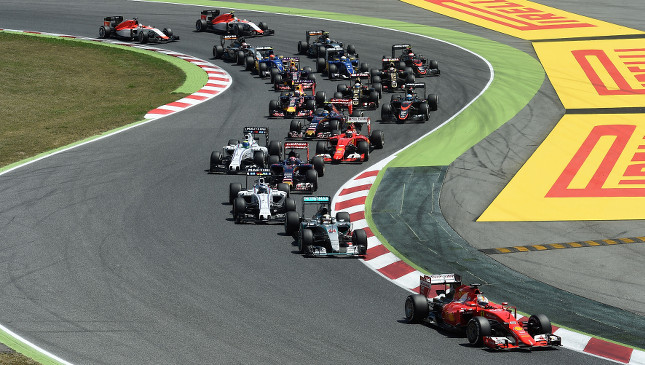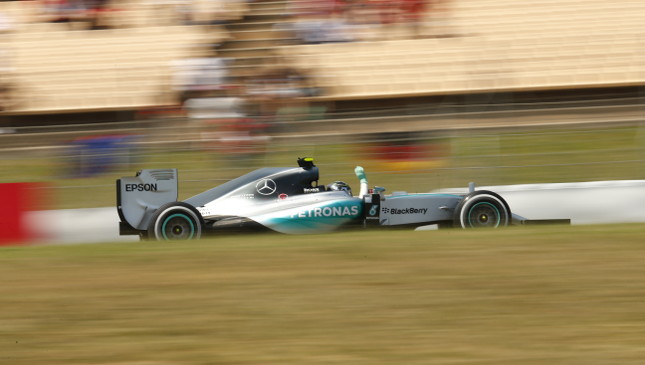 ADVERTISEMENT - CONTINUE READING BELOW ↓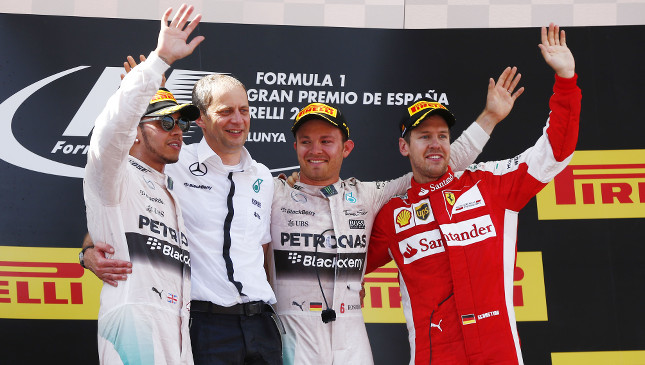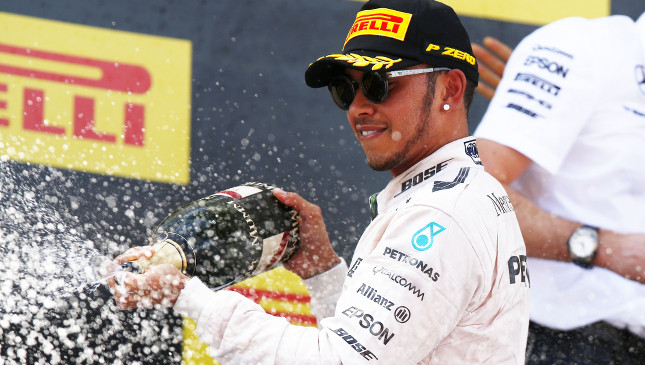 ADVERTISEMENT - CONTINUE READING BELOW ↓