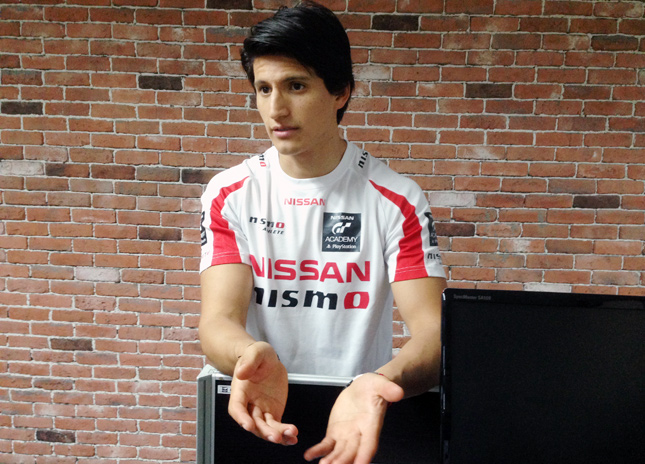 Nissan GT Academy aspirants, you absolutely have to read this. Your 10,000 hours of Gran Turismo playtime may be your ace up your sleeve, but in order to shine in the Japanese carmaker's driver-discovery program, we advise that you start breaking a sweat. Take that literally, because rigorous physical training also awaits the six Filipino finalists at the Silverstone Racing Circuit.
The lovely PR officer (and this month's Traffic Stopper) of Nissan Philippines, Sara de Guzman, dropped by our office together with 2014 Nissan GT Academy International champion and Nismo athlete Ricardo Sanchez. The 25-year-old Mexican race car driver shared with the Top Gear Philippines team the physical training he had to do at the race camp.
"We physically train two times a day, five days a week," revealed Sanchez, who had been a mechanical engineering student before he signed up for the Nissan GT Academy. In the process, he lost 8kg of weight.
The morning training was a series of heart-pumping cardiovascular workouts. It included a 50-minute 10km run, a 35km bicycle ride that should be covered in about an hour, and 2km of rowing to be finished in seven minutes. While those run and bicycle times are slower than a professional runner or cyclist, these are fast figures for an age-group athlete (another term for a nonprofessional runner or cyclist).
Continue reading below ↓
Recommended Videos
In the evening, Sanchez would dedicate an hour and 20 minutes of weightlifting--another grueling, anaerobic workout. And perhaps suicide if you've been a couch potato for decades. But for Nismo athletes, this is routine on Mondays, Tuesdays, and Thurdays to Saturdays.
"Prior to being a Nismo athlete, I used to do less of that," Sanchez revealed. Instead of the 10km running distance, the Mexican--who had been playing Gran Turismo since he was 11 years old--said he started running 2km to get in shape for the GT Academy. That was on top of the five-hour daily Gran Turismo video-game training he did for the national competition.
So, if you want to be the next GT Academy champion, it's advisable that you start having regular sweat sessions. Just like Sanchez's initial preps, your workout doesn't have to be as hardcore as those undergone by Nismo athletes. You just have to start losing some flab so you can easily progress to the Nismo race camp.
There was one question that bugged us, though: Is a physically fit but mediocre driver better off than an obese but skilled driver?
Sanchez believes that driving skills are more important, but physical strength enables drivers to withstand the strenuous racing conditions. One such punishing circumstance is the 50°C in-car temperature that should be endured throughout the Dubai 24-Hour race, an event that GT Academy champs must compete in.
Sanchez thinks that driving was his best asset (and not his physical fitness) at the driver-development program. "Being a fast driver is already one's advantage," he said. "I just think it's easier for a skilled driver to hone his fitness once he gets into the program."
Let the 8kg weight-loss program begin!
Photo by Vernon B. Sarne